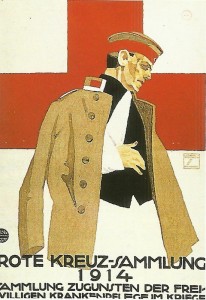 War Diary World War One for Sunday, December 27, 1914:
Western Front
Joffre and Field Marshall French confer at Chantilly.
Artois: 10 Chasseurs de Alpins battalions capture 800 yards (0.73 km) of Bavarian trenches at La Targette after 2­ hours artillery preparation.
Flanders: Belgians take German trenches near Lombaertzyde.
Vosges: ­Germans bombard St Die.
Eastern Front
Conrad cables Falkenhayn 'Complete success in the Eastern theater is … extremely urgent'.
Tsar at STAVKA (December 26­-29), inspects new 53rd Don Cossack Regiment on December 28.
Poland: ­Germans beaten on river Ravka.
Middle East
Armenia: Turks repulsed from Sarikamish; Turkish 28th Division reaches but driven off Kars road.
African Fronts
Cameroons: Lieutenant J P Butler wins African land war's first Victoria Cross (awarded 23 August 1915) by swimming across river Nkam under fire.