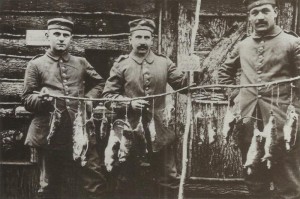 War Diary World War One for Thursday, January 28, 1915:
Western Front
Flanders: Allies take Great Dune.
Artois: German attack at Bellacourt.
Argonne: ­French 58 mm trench mortar first fired in action.
Middle East
Wassmuss, 'German Lawrence of Arabia', leaves Baghdad for Southern Persia, but Turks stop 3 other Germans.
Home Fronts
Britain: Lloyd George proposes to British War Council that Allied army be sent to Salonika to lead Balkan powers against Austria.
Fisher resigns over Prime Ministers Dardanelles attack order, but Kitchener and Churchill dissuade him. He agreed any troops should be sent to Serbia via Salonika.
Sea War
South Atlantic: US vessel William P Frye (wheat for Britain) sunk by German Armed Merchant ship Prinz Eitel Friedrich.
Black Sea: Russian torpedo boats shell Trebizond and Rize.
Neutrals
USA: US Coast Guard founded (grows to 8,835 men during hostilities with 48 vessels).