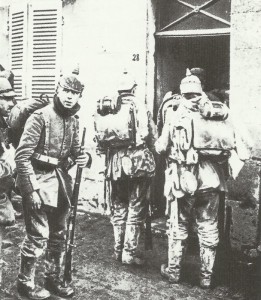 War Diary for Sunday, November 29, 1914:
Western Front
Somme: French advance around the village of Chaulnes.
Argonne: French recapture Bagatelle.
Vosges: French repulse attacks at Ban-de-Sapt. Bavarians forming first ski battalion.
Artois: General Fayolle (70th Reserve Division) writes 'I wonder whether those great leaders who push themselves forward … are not those who take no account … of the human lives entrusted to them'.
Southern Fronts
Serbia: Serbs evacuate Belgrade (night 29-30), blowing up French naval guns after 240 rounds fired off. The garrison of 17 battalions join Obrenovac Army Detachment of 6 battalions to the south. Serb First Army retreats 12 miles (ca. 19 km). Serb left wing to south now astride Western Morava Valley.
Air War
Western Front: Royal Flying Corps (RFC) reorganized: 2nd and 3rd Squadrons already forming 1st Wing; 5th and 6th Squadrons forming 2nd Wing (Lt-Col C J Burke). 4th Squadron becomes a communications unit and the depot (Aircraft Park) remain with RFC HQ at St Omer.
Germany: Despite makers' promise to deliver 200 aircraft per month from mid-August, Military Air Service has received only 462 aircraft since August 3.
Home Fronts
Britain: King leaves to visit Western Front until December 5.