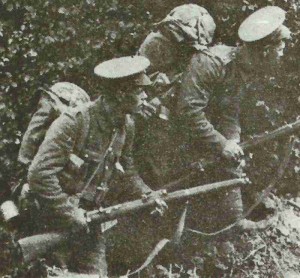 War Diary of World War One for Friday, October 16, 1914:
Western Front
Flanders – BATTLE OF THE YSER BEGINS (until October 31): Germans attack Dixmude. Belgians retire from Houthulst Forest northeast of Ypres. Foch visits King Albert. Allies occupy Aubers, Neuve Chapelle and Wameton, Givenchy. BEF across Lys in general advance up to 3 miles (ca. 5 km), its 7th Division digs in 5 miles (ca. 8 km) east of Ypres.
Artois: Petain tells corps commanders 'One must…employ …siege warfare', promoted to command of XXXIII Corps on October 20.
Sea War
Indian and Pacific Ocean: German light cruiser Emden sinks 3 British merchant ships (2 more on October 18 and 19).
Adriatic: Allied fleets bombard Cattaro.
North Sea: ­Another U-boat scare (false) forces Grand Fleet to sea.
Home Fronts
New Zealand: NZEF with 8,574 men, 3,818 horses and 12 guns sails from Wellington for France, where having waited for a stronger escort since September 25.
Australia: First AIF units sail for France.
India: IEF 'D' (4,721 troops, 8 guns, 460 followers, 1,290 mules and horses) sails from Bombay in 5 transports for Mesopotamia. Major-General Aitken's 8,000-strong IEF 'B' (14 transports) sails from Bombay for Mombasa.
Secret War
3 Germans leave Constantinople with £60,000 in gold for Afghanistan mission.