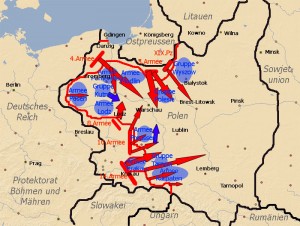 WW2 War Diary for Friday, September 8, 1939:
Poland
Battle of Warsaw begins: 4th Panzer division reaches outskirts of city, having advanced 225 km in 7 days. Garrison commander, General Czuma, broadcasts defiant Order of the Day: 'We shall fight to the last ditch !'.
100,000 civilians dig trenches in city outskirts.
Air War
Poland: Situation of Polish Air Force becomes desperate.
Western Front: Over the front line, 5 Curtiss Hawk fighters of l'Armee de l'Air (French Air Force) engage 5 Me 109 fighters and shot 2 down.
Home Fronts
Britain: Government plans for three years war.