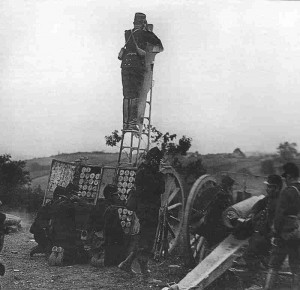 War Diary of World War One for Tuesday, September 8, 1914:
Western Front
Marne: Struggle continues on the Ourcq; each side strives to outflank the other. As German corps begin to arrive from Maubeuge, Maunoury's northern flank guard wavers. Gallieni again rushes up reinforcements to save day. BEF crosses river Petit Morin, attacks La Ferte­sous-Jouarre; British guns pound bridges crowded with Kluck's troops. D'Esperey also crosses river Petit Morin, captures Montmirail and threatens to roll up Bülow's whole front. Foch yields 3-4 miles to furious counterattacks by Bülow and Hausen.
Meuse: Germans shell small Fort Troyon until September 12, southeast of Verdun on the river. But on September 10 a cavalry division relieves it.
Lorraine­: French 59th Reserve Division retakes Ste Genevieve village north of Nancy, count 2,000 German killed soldiers.
Belgium: lieutenant-general Deguise becomes Commander of Fortress of Antwerp.
Air War
Western Front: Roeckel and Chatelain on artillery observation over Vaubecourt sector (Marne) enable French guns to silence half the German XVI Corps artillery.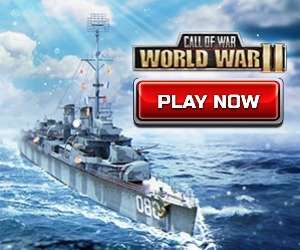 Eastern Front
Poland: Woyrsch's Silesian Landwehr Corps loses 8,000 men and forced back over river Vistula.
East Prussia: Russian II Corps holds Lötzen Gap.
Galicia: ­Second Battle of Lemberg until September 11. Fierce fighting around Ravarusska 32 miles (ca. 51 km) northwest of Lemberg, Austrian Fourth Army (Auffenberg) being beaten; Brusilov's XXIV Corps takes Mikoiajow.
Southern Fronts
Serbia: Austrian Sixth Army forces river Drina at two points including Zvornik in the night of 8-9 September and driving Serbs back gradually to Guchevo and its adjoining ridges, gaining 8 miles (ca. 13 km) by September 11.
Sea War
North Sea: AMC Oceanic wrecked and lost off Shetlands. Battlecruiser Squadron and Harwich Force sweep an empty Heligoland Bight.
Indian Ocean: German light cruiser Emden begins spectacular raiding cruise with prize neutral Greek collier Pontoporas, sinks 11 British merchantmen (September 10­-27), ties down 14 Allied warships in her pursuit. Emden capture or sunk total of 23 merchant ships.