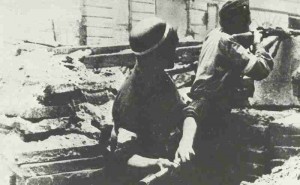 WW2 War Diary for Tuesday, August 1, 1944:
OCCUPIED POLAND
WARSAW RISING: Polish 'Home Army' (Armija Krajawa) begins heroic 53-day struggle against German garrison.
RUSSIAN FRONT
3rd Belorussian Front captures Kaunas (Lithuania).
WESTERN FRONT
US 12th Army Group formed, under Bradley: including 1st Army (Hodges) and 3rd Army (Patton); 2 TACs of 9th USAAF under attachment.
MARIANS
Americans secure Tinian.
HOME FRONT: USA
Death of Manuel Quezon, President of Filipino Government-in-Exile; aged 65. Sergio Osmena sworn-in.