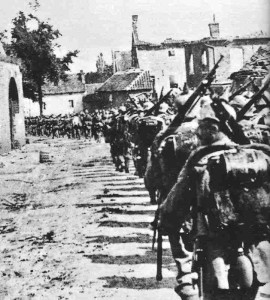 World War One Diary for Tuesday, August 11, 1914:
WESTERN FRONT
Alsace: Germans retake Mulhouse.
Belgium: ­Belgians fight near Tirlemont, St Trond and Diest.
SOUTHERN FRONTS
Serbia: Austrian 2nd, 5th and 7th Armies, screened by heavy shelling, cross rivers Sava and Drina (night 11-12); small Austrian detachment fails to take Ada Ciganlija Island near Belgrade.
SEA WAR
Channel: Admiralty requisitions 3 cross-Channel steamers to become seaplane carriers, 'Engadine' and 'Riviera' commission at Chatham on August 13, 'Empress' on August 25.
Pacific: German cruiser 'Leipzig' is at San Francisco until August 17.
AIR WAR
Western Front: First Royal Flying Corps echelon cross Channel by sea.
SECRET WAR
Royal Australian Navy boarding party seizes German HVB naval code, which is in use by Navy Zeppelins and outpost vessels until March 1916, from steamer which was unaware of the war. It reaches Admiralty end of October.