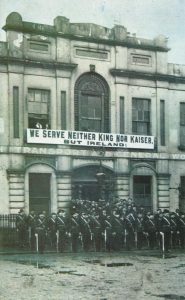 Diary for Monday, April 24, 1916:
Home Fronts
Ireland: EASTER RISING (­until April 30).
Russia: Tsar approves tax on incomes over 850 roubles per year (from January 1, 1917).
Southern Fronts
Salonika: General Mahon authorized to move British troops right up to Greek frontier, French already pushing north and west along Monastir railway.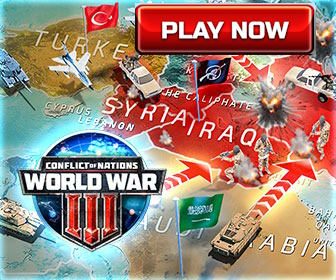 Middle East
Mesopotamia: 15-volunteer­ crewed paddle steamer Julnar gets within 8 1/2 river miles of Kut with 270t of food before being snared in Turk steel wires (2 Victoria Cross won). In Kut now 15 dysentery deaths per day.
Sea War
North Sea: After US protests Germany decides to adhere to prize law in U-boat operations (Scheer told during sortie and radio recalls all U-boats to base, but U20 and U45, unaware, sink 8 ships of 26,751t until May 8).
Dover Patrol begins laying 13­-15-mile 'Belgian coast barrage' of moored nets with mines and two lines of deep mines (10 minelayers), 4,862 mines in 16 fields (12 miles from shore). Despite attacks by seaplanes, 3 destroyers and shore guns (which hit destroyer Melpomene and 3 others) barrage completed by May 7, which destroys coastal submarine UB13 (May 24).
Air War
Western Front: French aircraft bomb rail stations at Longuyon, Stenay and Nautillois with bivouacs near Dun and Monfaucon. 15 Anglo-German air combats (2 German aircraft lost).
Neutrals
Switzerland: Second International Socialist conference (until April 30) in Kienthal; 43 delegates (10 parties including German and French). Lenin fails to convince majority.
Politics
Britain: Government replies to US note from October 21, 1915.