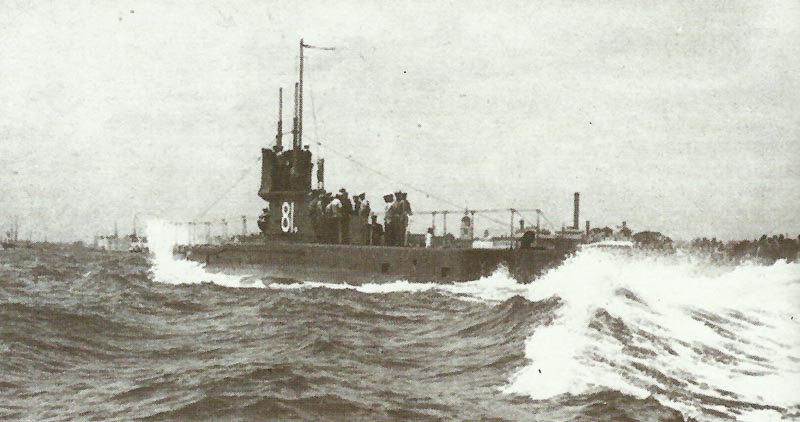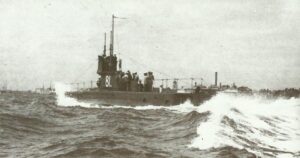 Diary for Thursday, August 19, 1915:
Sea War
Baltic: Submarine E1 torpedoes battlecruiser Moltke in Gulf of Riga, she returns to Kiel at 15 kts. Russian gunboat Sivach sunk. German Baltic Fleet abandons attempt since August 17 to penetrate Gulf of Riga by Northern route (Moon Sound) when submarines sighted. 4 Russian and 2 British subs now present.
German losses 2 destroyers, Russian 2 gunboats.
Irish Sea: White Star liner Arabic (Americans aboard, 44 lives lost including 3 US citizens) sunk by U24 (Schneider) and SS Nicosian sunk by U27. Later Q-ship Baralong (Lt-Cdr G Herbert) using US flag on approach sinks U27. The 'Baralong Incident' becomes German atrocity accusation at British, demand trial of crew for murder of 4 submarine crew members in SS Nicosian, but British accep­tance refused of international tribunal if three recent U-boat attacks included.
Eastern Front
German Gulf of Riga landing attempt at Pernau foiled until August 21.
Poland: Battle of Niemen until September 8. Russian First Army absorbs Twelfth Army. Austro­-German cavalry begin advance on Kovel.
Middle East
Britain – Dardanelles Committee meets until next day: Bonar Law says Hamilton 'was always nearly winning'. Churchill suggests separate peace with Turkey, Grey says Russians would never agree.
East Persia: Niedermayer-Hentig party evade Russians and enter Afghanistan, reach Herat on August 24 and leave for Kabul September 7.
Air War
Britain: Trenchard gazetted GOC RFC, succeeds Henderson who returns to Whitehall to head Military Aeronautics Directorate.
Politics
Germany: Bethmann Reichstag speech blames Allies for war. Grey rebuts on August 26.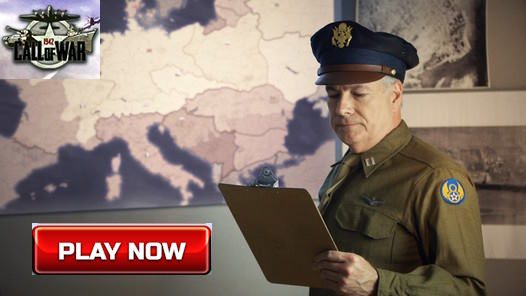 Neutrals
USA: 3 US lives lost in British SS Arabic.
Switzerland: Police accuse British Zürich Consul­-General of spying, leaves and British network smashed (August 27) but disguised Basle press bureau opens (August 27).