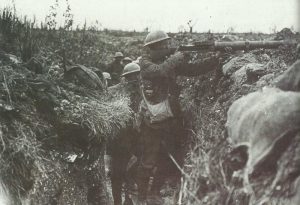 Diary for Friday, August 25, 1916:
Western Front
Battle of the Somme: British secure Delville Wood and repulse attacks south of Thiepval.
Champagne: German attack west of Tahure repulsed.
Ypres: New 4th Canadian Division arrives.
Eastern Front
Dobruja: Russian Dobruja Detachment (50,000 men in 3 divisions) crosses Danube into Rumania, invades Bulgaria (August 27).
Southern Fronts
Macedonia: Bulgars occupy Seres in northeast Greece.
Sea War
North Sea: German coastal submarine sinks armed boarding steamer HMS Duke of Albany.