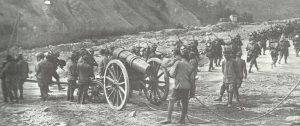 Diary for Sunday, August 6, 1916:
Southern Fronts
Isonzo: Main Italian assault at 1600 hours after 9 hours intensest artillery barrage yet against Austrian 58th Division (General Zeidler on leave), 42 guns, 65 MGs involves Capello's VI Corps' 6 divisions, 603 guns and 390 mortars. They storm Mt Sabatino (1,998 ft) in 45 minutes and part of Podgora, taking 8,000 PoWs, 11 guns and 100 MGs. Former success much aided by Colonel Badoglio's exhaustive reconnaissance and planning as CoS VI Corps and his leading of 6 battalions of 45th Division to assault.
Abruzzi Brigade storms Oslavia and Hill 165 to south, Cuneo Brigade takes Grafenberg on Podgora; Pavia Brigade storms Mt Calvario (603 ft). Italian XI Corps (87 battalions and 217 guns) captures all 4 humps of Mt Michele (Carso) and enters village taking 1,000 PoWs from Austrian VII Corps then gains whole of Northern Carso (until August 9).
Western Front
Battle of the Somme: Slight British advance east of Pozieres. Reserve Army begins struggle for Mouquet Farm (until September 3).
Verdun: German counter-attack defeated, but regains Thiaumont work twice (August 8-9).
Middle East
Sinai: British reoccupy Katia, Turk rearguard actions against mounted troops until August 7.
Air War
Western Front: French ace Fonck forces undamaged Rumpler two-seater to land and alights nearby to take the crew as PoWs. Royal Flying Corps Sopwiths break up German 10-bomber formation east of Bapaume.