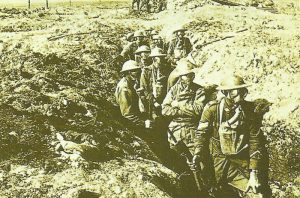 Diary for Monday, August 7, 1916:
Western Front
Battle of the Somme: German attacks north and northeast of Pozieres. British attack outskirts of Guillemont.
Eastern Front
Galicia: Lechitski resumes offensive with gas shell preparation, advances 12 miles to Stanislau, takes it with 10,581 (3,500 German) PoWs (August 10), identifies German Karpat­enkorps arriving from Verdun (August 8).
Southern Fronts
Isonzo: Lambro and Etna Brigades storm Hill 188 and Peurna heights. Some Cuneo patrols reach Isonzo in night. Austrians blow up rail bridge and counter­attack at Grafenberg.
Sea War
Italy: Royal Navy transfers 4 'W'-class submarines (some of them on August 23) small submarines to Italian Navy.