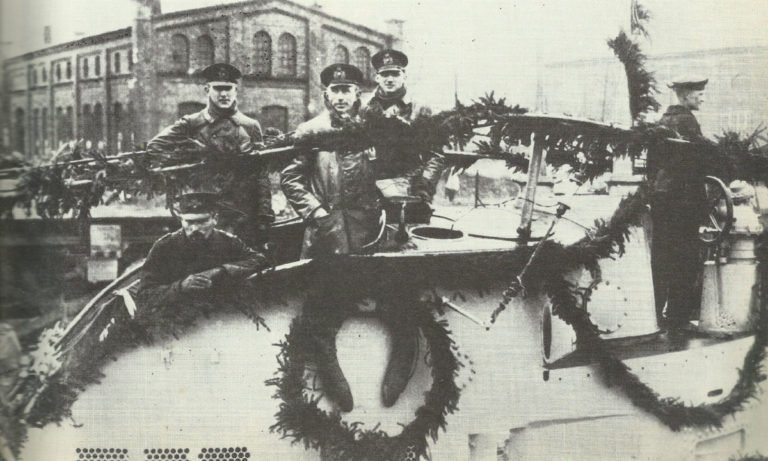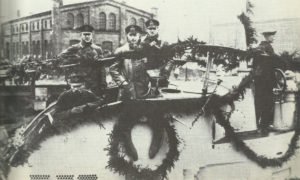 World War One Diary for Thursday, February 1, 1917:
Sea War
GERMANY BEGINS FINAL UNRESTRICTED SUBMARINE WARFARE CAMPAIGN: 105 U­-boats in service (42 under repair, 51 lost to date – High Seas Fleet 49, Flanders 23, Baltic 2, Adriatic 24 including Austrian, Constantinople 3). 51 more U-boats ordered. Maximum of 44 at sea on anyone day. Royal Navy C-in-C Ireland has 10 Q-ships operational in home waters and Bermuda.
Britain: 4 new seaplane stations cover Southwestern Approaches. Over 600 neutral ships refuse to sail.
North Sea: HM Special Service Smack I'll Try (ex- G & E) scores two hits on U-boats. In February Super-Dreadnought Queen Elizabeth becomes Beatty's Grand Fleet flagship.
Aegean: During February Royal Navy Air Service forms seaplane base for 4 planes at Suda Bay, Crete, to patrol against U-boats.
Western Front
Germany: In February German Army now has 15 assault battalions and 2 coys of Stosstruppen (given title of Grenadier, and Guard insignia in March). Each German infantry coy to have 3 Bergmann sub-machine guns.
Britain: BEF forms 1st Tank Brigade (2nd on February 15; 3rd on April 24), Central Work­shops and Stores begun on January 7.
57th Division (on February 6) and 59th Division (on February 21) join BEF.
Flanders­: German infantry wearing winter white battle dress unsuccess­fully raid British positions near Wytschaete. Severe frost on this and several succeeding nights. This week temperature falls below zero °F.
Somme­: Unsuccessful German trench raid near Grandcourt. British trench raiders seize 56 PoWs near Gueudecourt.
Occupied France: During February German senior commanders and staffs, attend tactical School at Solesmes to learn new defence methods (school at Sedan opens in March).