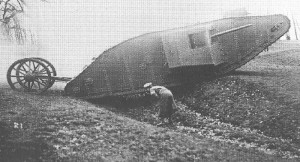 Diary for Wednesday, February 2, 1916:
Secret War
Britain: Kitchener calls 'Mother' tank 'a pretty mechanical toy' on seeing trials with Lloyd George, but reports to War committee following day that 'impressed'. King has a ride with it on February 8. Scientists committee to promote war science formed.
African Fronts
East Africa: Northern Jubaland tribe take Serenli border post (night Februray 2-3) causing c.95 casualties and 1 MG taken. Tribe dominates locally till post remanned in August 1917.