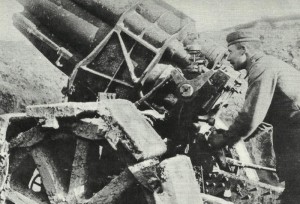 Diary for Monday, February 28, 1916:
Western Front
Verdun: Sudden thaw after long cold spell turns battlefield into a sea of mud but Voie Sacree kept open with gravel by 3,000 Territorials. Germans attack astride d'Eix stream; to north regain ground lost previous day, on south bank they take Champlon and Manheuller. Farther north Germans repulsed at Douaumont village and Haudromont wood.
Vosges: Germans penetrate French positions near Thionville.
Air War
Mesopotamia: Royal Flying Corps and Royal Navy Air Service to be administered as one service under Wing Commander Gordon; 4 aircraft reinforce Tigris Corps (­until March 6) after 4 lost in accidents.
Home Fronts
Britain: Death of Henry James, aged 72, American-born novelist at Rye, Sussex.
Russia: Dvinsk Secret Police chief reports widespread Army and civilian anger against Government.