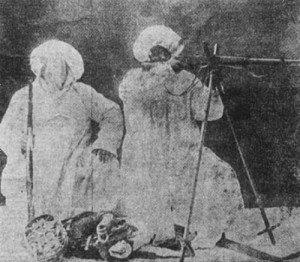 Diary for Monday, January 10, 1916:
Middle East
Armenia – Yudenich's winter offensive: Battle of Köprüköy (until January 19) during Russian Christmas. Turk Third Army driven back on Erzerum, losing 25,000 casualties and 20-30 guns for 12,000 Russian casualties (2,000 frostbite cases in hospital).
Southern Fronts
Salonika: Royal Navy motorboat from Mudros launched on lake Langaza, 2 more patrol lake Beshik from January 15. This sector of defences for the Allied Entrenched Camp well-developed, 80-mile line but 45 miles covered by lakes and marshes.
Neutrals
Greece: Allies inform government of Serb Army's proposed transfer to Corfu where French troops land, Greece refuses consent on January 13, but Serbs land on January 15.
Switzerland: ­Lenin moves to Zürich (or following day ?), soon lecturing to earn money. Police have by now arrested many British MI1c agents.
Mexico: General Francisco Villa shoots 18 US mining engineers taken from train at Santa Isabel (US demands punishment on January 12).