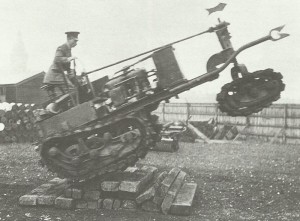 Diary for Monday, June 28, 1915:
Secret War
Britain: Churchill and Lloyd George watch Killen­-Strait barbed-wire cutter tractor, Wormwood Scrubs, London. They also see Stokes mortar demo there (on June 30). Lloyd George agrees to urge production of 1,000 units, thanks to Lieutenant FA Sutton (lost right arm at Gallipoli on May 22).
Middle East
Gallipoli: British gain half a mile on Gully Spur for 3,800 casualties and repel Turk counter-attacks (16,000 casualties until July 5).
Mesopo­tamia: Nixon put in command of Bushire, Persia.
African Fronts
North Cameroons: c.200 Nigerian troops from Garua capture Ngaundere until next day, 140 miles (ca. 225 km) south.
Rhodesia: Anglo-Belgian Fort Saisi, a mile inside border, repels Germans.
Sea War
Baltic: German landing attempt at Windau (Courland) covered by old battleships, 4 cruisers and torpedo vessels ended by Russian destroyers who drive off ships.