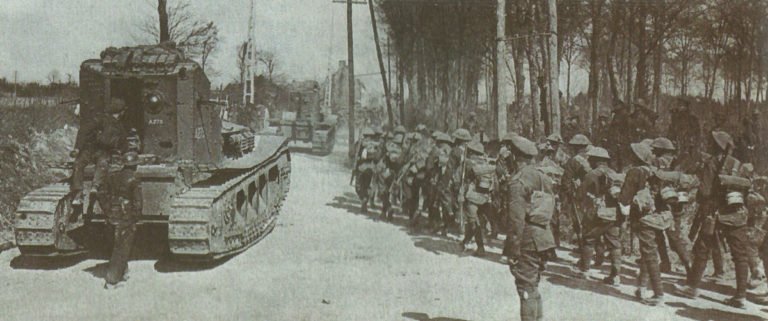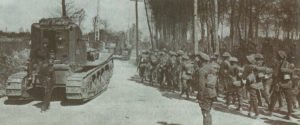 World War One Diary for Tuesday, March 26, 1918:
Western Front
DOULLENS CONFERENCE between Clemenceau, Lord Milner, Haig, Petain and Foch (all but Haig met at Compiegne at 1700 hours on March 25). At Haig's proposal FOCH APPOINTED TO CO­ORDINATE ALLIED MOVE­MENTS (President Wilson approves on March 29). Foch immediately switches Debeney's First French Army from St Mihiel sector towards Amiens and asks both Haig and Petain to maintain a united front. Petain makes a pessimistic report on his plans to fortify and defend Amiens 20 miles behind front. Foch retorts: 'We must fight in front of Amiens. We must stop where we are now. As we have not been able to stop the Germans on the Somme, we must not retire a single centimetre!'
Somme: German 3rd Marines and 54th Reserve Divisions enter Albert. British Whippet light tanks first time in action: 12 rout 2 German battalions, helping ANZAC troops to plug Hebuterne-Collincamps gap in Third Army front after 22-mile retreat in 5 days. Germans capture Roye from the French.
Middle East
Mesopotamia – Battle of Khan Baghdadi (until March 27): Brooking's c.11,000 men, 48 guns, 16 planes, 13 armoured cars and 300 Ford vans storm 2 Turk trench lines and cut Aleppo road trapping 5,254 PoWs (including Nazim Bey, commander 50th Division), 12 guns and 47 MGs for 159 casualties.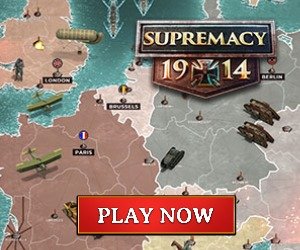 Sea War
St George's Channel: Royal Navy PC-51 depth charges and sinks U-61, sinker of 36 ships (90,770t) since 1916.
Air War
Western Front: British Third Army uses 27 of its 34 Royal Flying Corps squadrons or over 250 aircraft for close support, total 29t (c.1437) bombs and 228,000 rounds by formations of up to 60 aircraft. RFC lose 50 planes (Germans claim 12 for loss of 5) for 10 German claimed. Both sides night bomb. RFC drop record of 1,326 bombs.
Home Fronts
Britain: Churchill cables all factories for increased output and Easter holidays' deferment (over 1,500 firms do); assures War Cabinet 2,000 guns ready for BEF by April 6. Light, Heating and Power Order, no lighting in public places after 10.30pm.