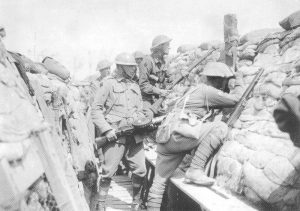 Diary for Tuesday, May 23, 1916:
Western Front
Artois, Vimy: BEF IV Corps counter-attack with 2 brigades ruined by German counter-barrage; British losses 2,500 to 1,344 German.
Verdun: German counter­-attack cuts off French in fort Douaumont who cannot be reinforced. Germans take Cumieres.
Southern Fronts
Italian Front: Austrian XXI Corps east of river Adige attacks Buole Pass (4,773 ft) (until May 28) against Italian 37th Division.
Sea War
North Sea: 10 U-boats (sailed from May 17) begin to take up minelaying stations off Grand Fleet bases and in key areas ready for Admiral Scheer's planned sortie.
Air War
Sudan: Future Royal Air Force Marshal Lieutenant Siessor Royal Flying Corps (wounded) bombs fleeing Sultan of Darfur.
Home Fronts
Britain: House of Commons votes £ 300 million war credit (no 11); war cost est £4.8m per day since April 1.