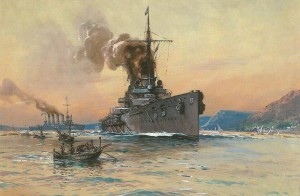 Diary for Sunday, November 14, 1915:
Sea War
Black Sea: Battlecruiser Goeben missed off Bosphorus by 2 Russian submarine torpedoes but taken off coal convoy route.
Dardanelles: ­Cruiser Chatham brings Kitchener to Mudros (from Marseilles), only general not seasick visiting Suvla bridgehead in destroyer Laforey on November 17.
Western Front
Artois: Determined but unsuccessful German attacks on 'The Labyrinth'.
Meuse­: Poincare, accompanied by Generals Dubail and Rocques visits fortifications of Bois-le-Pretre and Pont-a-Mousson 'which has just undergone its 178th bombardment' (The Times correspondent).
Champagne: German grenade attacks on barriers around French Butte de Tahure listening posts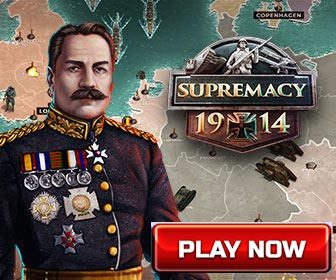 Southern Fronts
Isonzo: Sardinia Brigade captures Trincea del Razzi for 1,521 casualties including General Berardi (plus more than 1,000 sick soldiers) on Carso.
African Fronts
Western Desert: Senussi Revolt (Turk-backed) begins with sniping at Egyptian post, Sollum. 300 Senussi occupy Zaura Monastery at Sidi Barrani (November 17).
Air War
Italy: Austrian aircraft bomb Verona (79 casualties).
Politics
Czech leaders Masaryk and Durich issue revolutionary manifesto for independence and form Czech National Council.