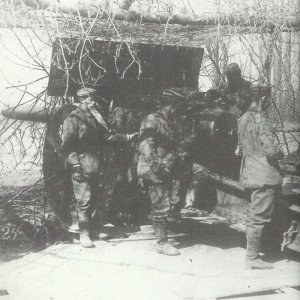 Diary for Wednesday, November 24, 1915:
Western Front
Artois: 50 German shells directed at Arras rail station.
Meuse: Germans fire a few gas shells at Bois Brule (Woevre).
Argonne: French mine destroys small German post in Boluntre sector.
Eastern Front
Western Russia: Russians retake Yarnopol, north of Illukst (river Dvina) and turn German northern flank; Germans abandon salient. Another Russian success at Illukst on November 29.
Southern Fronts
Serbia: Allied Serbian Relief committee first meets in Rome.
Albania: ­British Adriatic Mission lands at Scutari without knowing French Mission also sent. Royal engineers party follows to help with roads and ferries.
Middle East
Gallipoli: Russell GOC New Zealand and Australian Divisions orders 72-hour ceasefire at Anzac bridgehead (until November 26) to accustom Turks to silence.
Politics
Britain: M Thomas announces permanent Allied munitions organization in London.