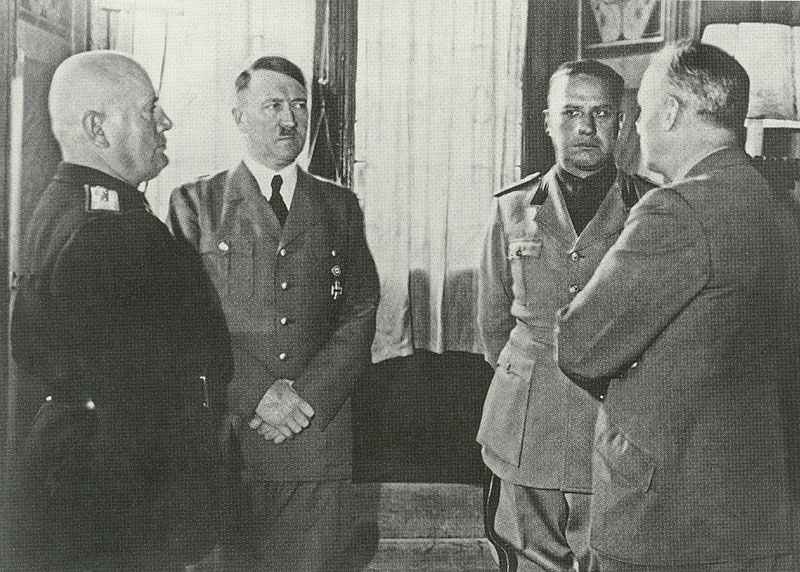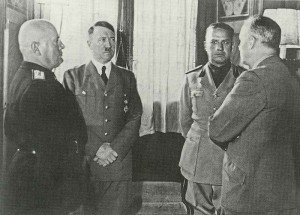 Diary for Monday, October 28, 1940:
Politics
Italian ultimatum to Greece, demanding right of passage for Italian forces to unspecified 'strategic points', by 6 a.m. Greek Prime Minster Metaxas rejects ultimatum. Italian forces begin invasion at 5.30 a.m. Britain promises all possible aid to Greece.
Mussolini, Hitler, Ciano and Ribbentrop were meeting in Palazzo Vecchio in Florence, Italy.
Balkans
ITALIAN INVASION OF GREECE. Italians attack at three points on Albanian-Greek frontier – Adriatic coast, Pindus Mountains and Macedonia – employing 27 divisions, 380 aircraft, supported on seaward flank by naval forces.
General Papagos appointed Greek CinC.
See also: Greek armed forces
Home Fronts
Vichy France: Laval becomes Vichy Foreign Minister.
Air War
Italians bomb Patras, Greece (100 killed).