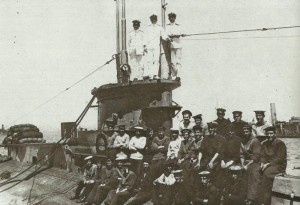 Diary for Friday, September 3, 1915:
Sea War
Germany: Chief of Naval Staff Admiral Bachmann resigned and replaced by Admiral Holtzendorff for advocating un­restricted U-boat warfare but both refuse to send more U­-boats to Mediterranean (13 already sent, only 18 for home waters) or declare that sea to a war zone.
Aegean: British troop liners Mauretania (5,000 troops on board) and Empress of Britain arrive at Mudros (Lemnos). British sub E11 returns from its second patrol in Sea of Marmora (2 warships, 27 steamers and 57 sailing craft sunk).
Middle East
Gallipoli: At Dardanelles committee in London Churchill and Lloyd George press for priority over Western Front offensive.
African Fronts
East Africa – Action near Maktau: 67 British mmounted infantry lose heavily against German train raiders, but hit 14 Germans. Australian Lieutenant Dartnell wins posthumous Victoria Cross.
Cameroons: ­French troops occupy Akoafim.
Air War
North Sea: German airship L 10 crashes (19 killed, no survivors) in flames off Cuxhaven, struck by lightning while valuing hydrogen to lose height.
Neutrals
Switzerland: ­Czech nationalists Masaryk and Dr Benes meet in Geneva, latter left Prague via Bavaria and is sent to Paris.