Organization of the German Army in World War I from 1914 to 1918.
The deployment in 1914, regiments, divisions, branches and organization of the infantry.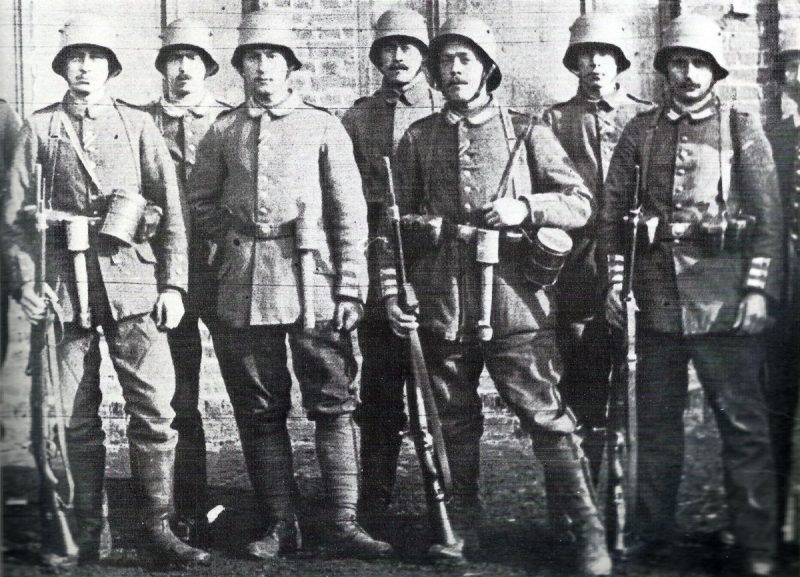 Organization of the German Army 1914-18.
The 1914 deployment
The mobilized German Army in August 1914 had these regiments: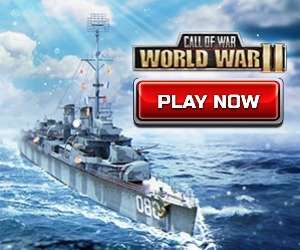 5 regiments of Prussian Guard Foot Guards, 4 regiments of Prussian Guard Grenadiers, 1 Prussian Guard Fusilier Regiment, 12 Line Grenadier Regiments, 182 Infantry and Fusilier Regiments, 24 Bavarian Infantry Regiments (including the Life regiment), 15 Jäger Battalions (including the Prussian Guard Rifle Battalion), 2 Prussian Guard machine-gun detachments, 9 line machine-gun detachments (including a Saxon and Bavarian one), 15 fortress machine-gun detachments, 10 cuirassier regiments (including the Prussian Guard regiment and the Prussian Gardes du Corps), 3 Saxon cavalry regiments (including the Guard regiment), 2 Bavarian heavy cavalry regiments, 26 dragoon regiments (including two Prussian Guard regiments), 8 Bavarian light cavalry regiments, 21 hussar regiments (including the Prussian Life Guard, 2 Life Guard regiments and 3 Saxon regiments), 23 Uhlan regiments (lancers, including the Prussian Guard and 1 Saxon and 2 Bavarian regiments), 13 regiments of mounted riflemen, 113 reserve infantry regiments, 96 Landwehr infantry regiments, 86 battalions of replacement infantry, 21 battalions of Landwehr replacement infantry, as well as the active guard and line artillery, engineer, construction, train, aviation, signal, medical, and veterinary units in support.
In addition, each army corps had squadrons of reserve cavalry, which were formed into regiments at mobilization and added to the reserve cavalry troops. Cavalry Landwehr was mobilized in squadrons and assigned to army corps, and there were also reserve units of artillery, etc.
---
Organization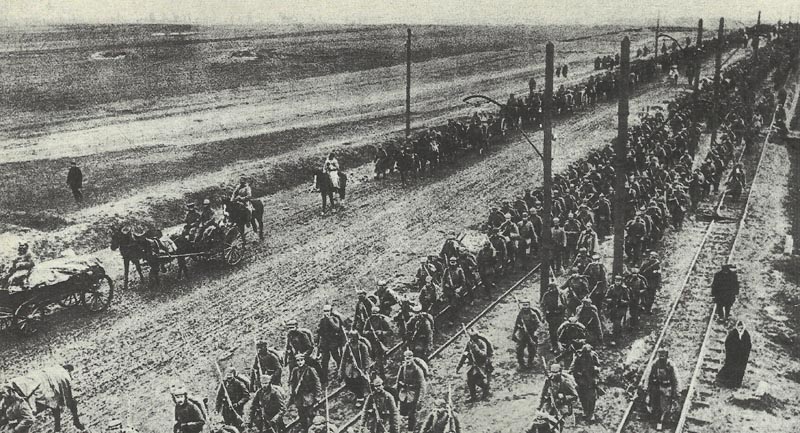 The 25 army corps formed the framework around which the entire organization of the German Army was built, and they also served as the basis for wartime enlargement.
Each corps formed a complete, self-sustaining unit, and the corps commander was able to rule almost completely independently in his area. He received his orders directly from the emperor or, in Bavaria, from the king. He was responsible for the training of the troops under his command, although the technical training of the various troop types and services was mainly the responsibility of the various inspectors general.
This decentralization of responsibility and command was the main reason why the German army could be mobilized so quickly, and greatly facilitated its enormous expansion during the war years.
The peacetime strength of the army in 1914 was about 840,000 men of all ranks, but by the end of 1917 this number had risen to nearly 6,000,000, not including recruits in training at that time.
Some idea of the expansion of the German Army is obtained by comparing the 218 active infantry regiments, 113 reserve regiments, 96 Landwehr regiments, and various battalions of 1914, which had finally grown to 698 active, 114 reserve, and 106 Landwehr regiments by 1918. And this does not include the two classes of Landsturm.
A selection of the increase in each branch of the armed forces can be seen here: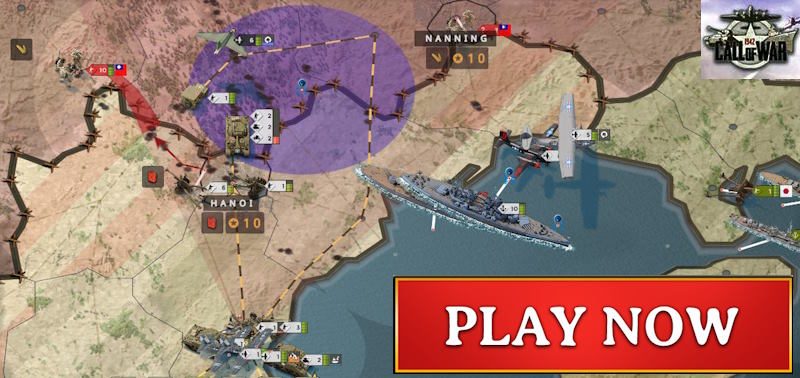 | Units | July 1914 | January 1918 |
| --- | --- | --- |
| Infantry Battalions | 669 | 2,300 |
| Cavalry Squadrons | 550 | 570 |
| Field Artillery Batteries | 642 | 2,900 |
| Foot Artillery Batteries | 400 | 2,250 |
| Pioneer Companies | 150 | 650 |
These figures show that the strength of the cavalry remained almost constant. The reason for this was that most of the cavalry units formed after mobilization served exclusively as dismounted troops and were counted as infantry.
Divisions
By November 1918, the original 25 army corps had been augmented by 24 reserve corps, three of which were Bavarian, as well as Landwehr, Landsturm, and even a Marine corps. In all, the army corps now comprised 218 1/2 divisions, three of which were based in Germany.
They were composed as follows: 117 active or independent divisions, 40 1/2 reserve divisions, 30 Landwehr divisions, 5 replacement divisions, 17 Bavarian divisions, 3 Mountain (Gebirgsjäger) or Jäger divisions, 3 Marine infantry divisions.
These 218 1/2 divisions were distributed as follows: 187 1/2 divisions on the Western Front (including cavalry fighting as infantry), 20 in Russia, 8 on the Italian or Balkan Front, 3 in Germany.
The contingents of the various German states in August 1914 came from:
78% from Prussia and the small states (such as Brunswick, Baden, Oldenburg, Hesse), 11% from Bavaria, 7% from Saxony, 4% from Württemberg.
The strength of an average German army corps in August 1914 was as follows:
Two infantry divisions (each consisting of two brigades of two infantry regiments), one foot artillery regiment (each consisting of two battalions of four batteries), one field artillery brigade (consisting of two field artillery regiments), and two cavalry brigades (each consisting of two cavalry regiments).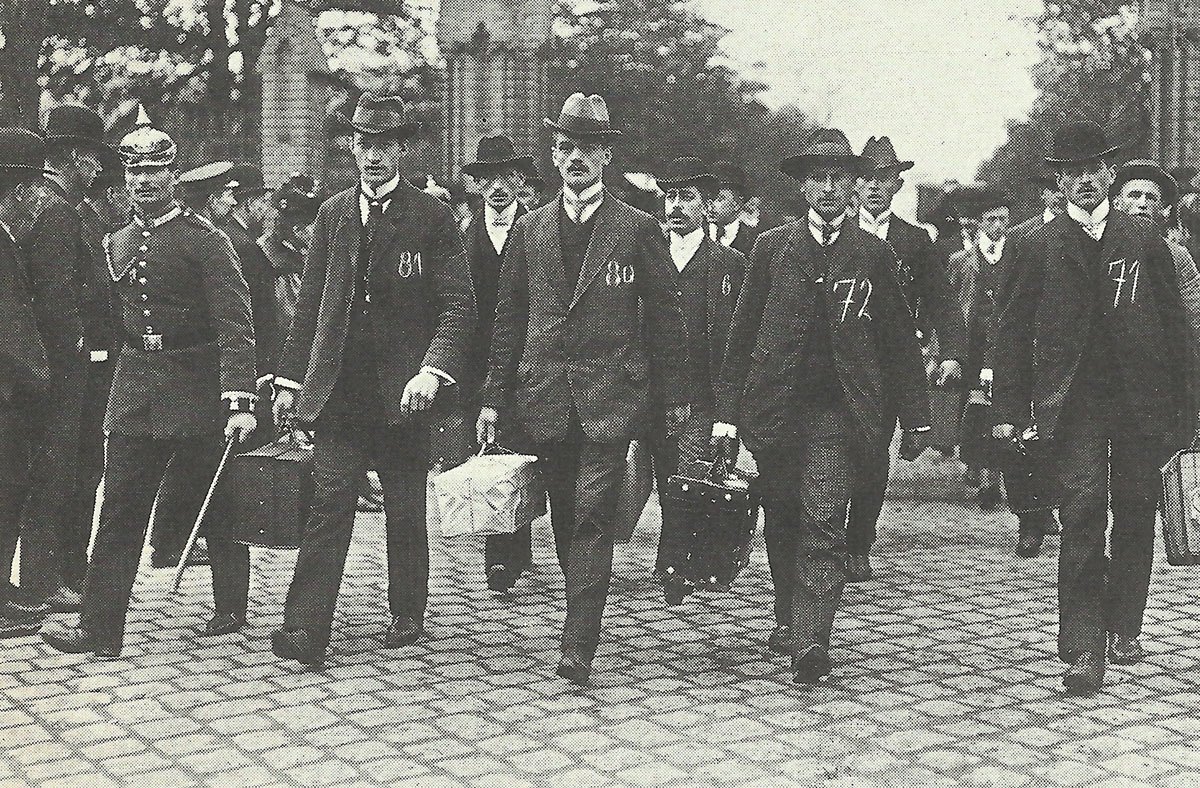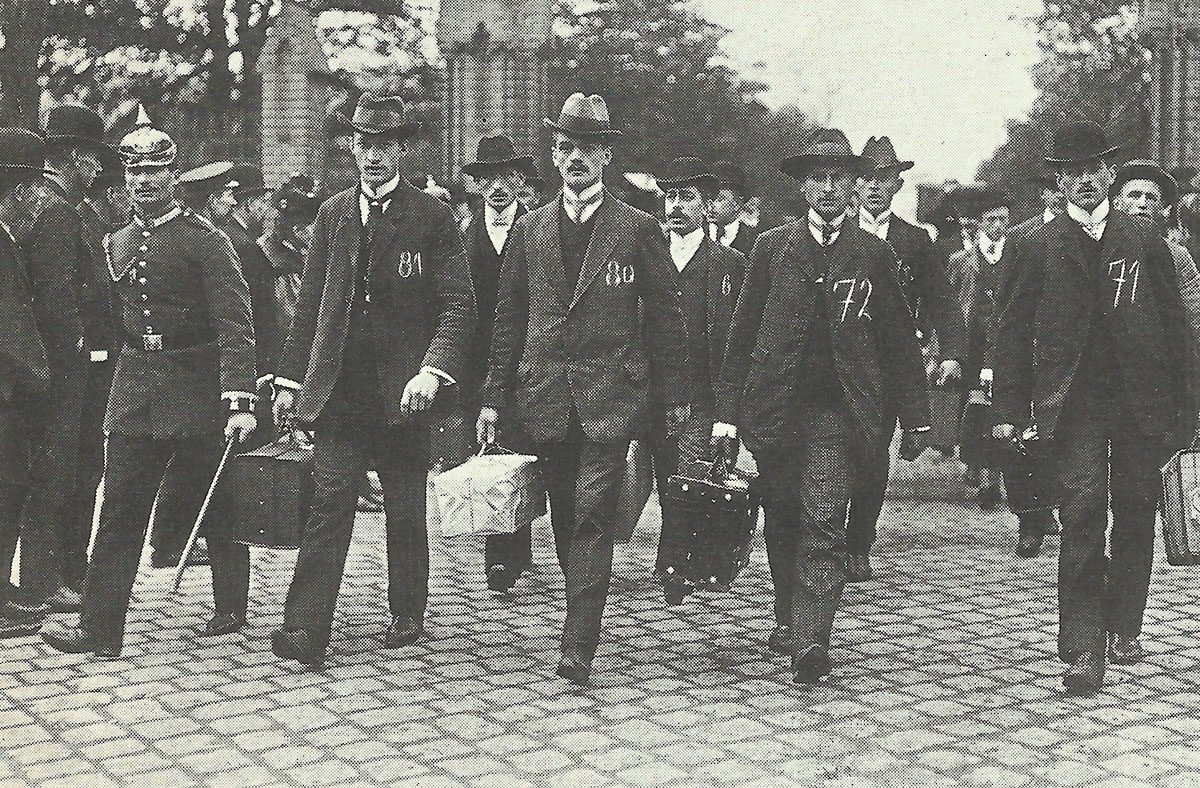 Recruitment System
The German recruitment system was based on the territorial division of the empire, with the 25 army corps forming the unit for all recruitment and administrative purposes. Germany was divided into 24 army corps districts, each of which stationed and recruited a complete army corps.
In addition, the Prussian Guard Corps, which was exempt from the numbered order, was drawn up with personnel from all of Prussia and Alsace-Lorraine, but was stationed in Berlin because of its role as the Imperial Guard.
In peacetime, each of the Army Corps districts was divided into four or five brigade districts, which in turn were divided into two or three Landwehr districts.
There were the following Army Corps districts:
| Army Corps | District | Headquarters |
| --- | --- | --- |
| Guard | Prussia and Alsac-Lorriane | Berlin |
| I | East Prussia | Königsberg |
| II | Pommerania | Stettin |
| III | Brandenburg | Berlin |
| IV | Prussian Saxony | Magdeburg |
| V | Duchy of Posen | Posen |
| VI | Silesia | Breslau |
| VII | Westphalia | Munster |
| VIII | Rhineland | Coblenz |
| IX | Schleswig-Holstein | Altona |
| X | Hanover | Hanover |
| XI | Thuringia and Hesse-Nassau | Cassel |
| XII | Eastern Saxony | Dresden |
| XIII | Württemberg | Stuttgart |
| XIV | Baden | Karlsruhe |
| XV | Alsace | Strasbourg |
| XVI | Western Lorraine | Metz |
| XVII | West Prussia | Danzig |
| XVIII | Hesse | Frankfurt/Main |
| XIX | Western Saxony | Leipzig |
| XX | South East Prussia | Allenstein |
| XXI | Eastern Lorraine | Saarbrücken |
| I Bavarian | Southern Bavaria | Munich |
| II Bavarian | Lower Franconia and Palatinate | Wurzburg |
| III. Bavarian | Northern Bavaria | Nuremberg |
---
The Infantry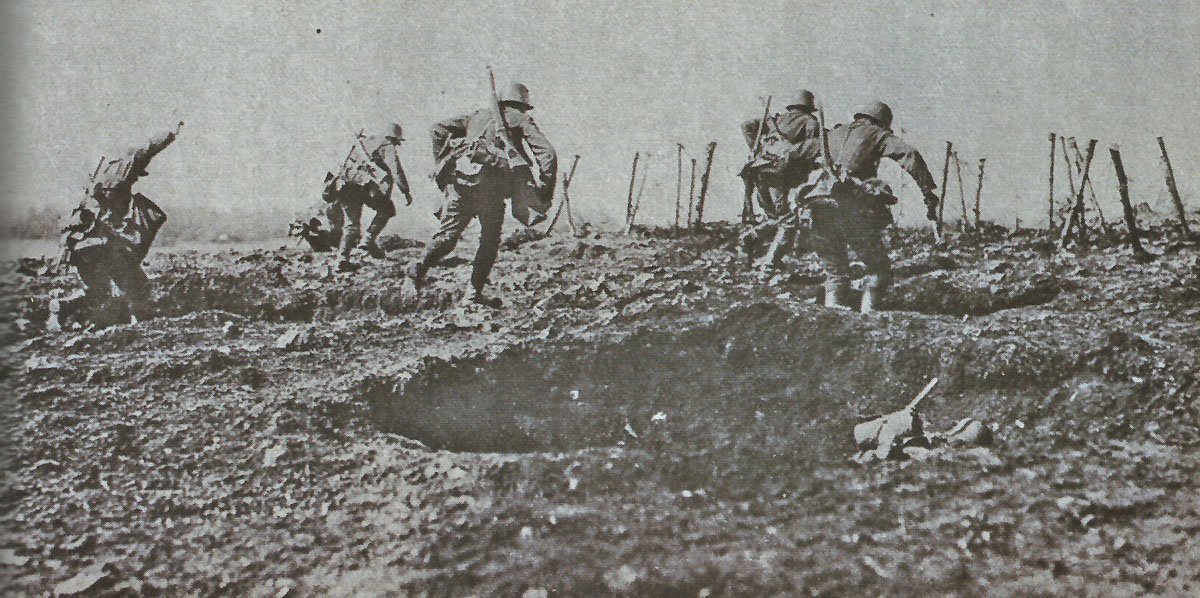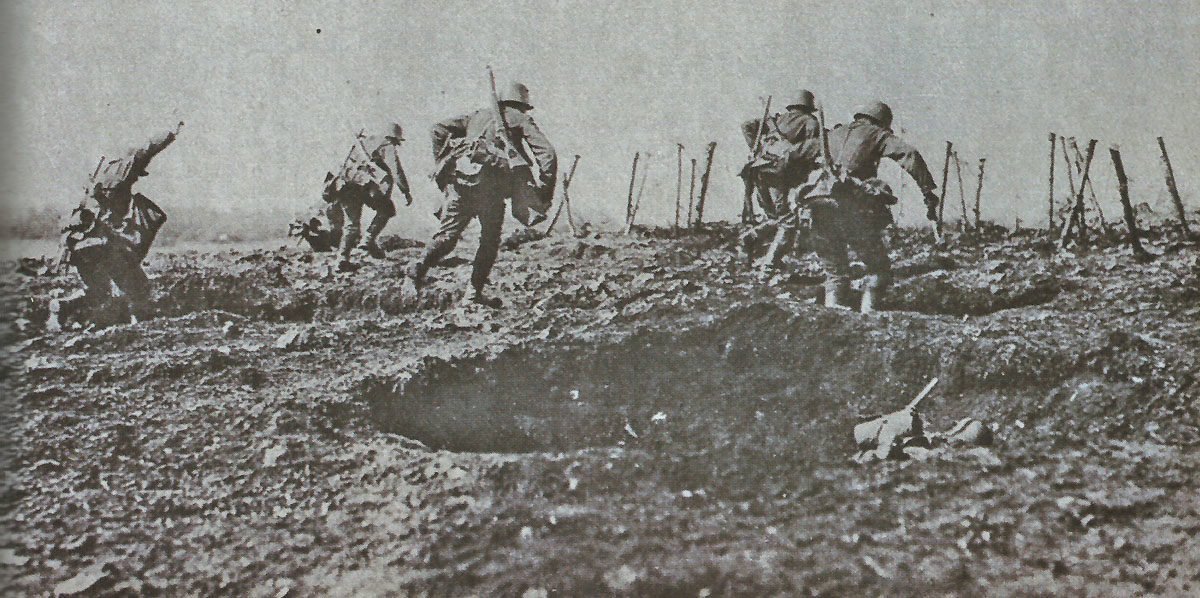 The German infantry was organized into regiments, each consisting of three battalions numbered I, II and III.
Each battalion had four companies and one machine gun company. The companies were numbered 1 through 12 throughout the regiment, and the machine gun companies were numbered 1, 2, and 3.
The company was divided into three platoons numbered 1, 2, and 3 at each company.
Each platoon was in turn divided into four sections, numbered 1 through 12 throughout the company.
The smallest subdivision was the squad, which consisted of eight men and a lance corporal. Each company had four stretcher bearers.
The regiment was commanded by a colonel, who was assisted by a lieutenant colonel as a deputy. During the war, however, it was not unusual for a regiment to be commanded by a major.
Each battalion was commanded by a major and each company by a captain or, in some cases, a lieutenant. A detachment was commanded by a corporal and a squad by a lance corporal.
By a decree of the Prussian War Ministry of March 12, 1917, the strength of a battalion was reduced to 750 men. This reduction was necessitated by the introduction of three light machine guns (model 08/15) in each company.
For the end of 1917, the strength of a battalion is estimated at 800 men. In 1918, this number was increased to 850 men without the machine guns.
Excluding the machine gun companies, the wartime strength of the infantry was as follows:
Company: 5 officers, 259 enlisted men, 10 horses and 4 wagons.
Battalion: 23 officers (including supply officer), 3 medical officers and paymasters, 1,050 enlisted men, 59 horses and 19 wagons.
Regiment: 73 officers, 10 medical officers and paymasters, 3,204 enlisted men, 93 horses and 59 wagons. The staff consisted of 4 officers (including a supply officer), 1 medical and paymaster officer, 54 enlisted men, 16 horses, and 2 wagons.
As the war progressed, some independent battalions were combined into new regiments, but the specialized Jäger, Rifle, Ski, and Mountain units retained their independent status. The Jäger battalions, one assigned to each army corps, were composed of specially selected men whose homes were forest areas and who wore distinctive uniforms.
In 1916 most of the Jäger battalions were consolidated into regiments, and in 1917 a Jäger Division was formed to participate in the campaign in northern Italy.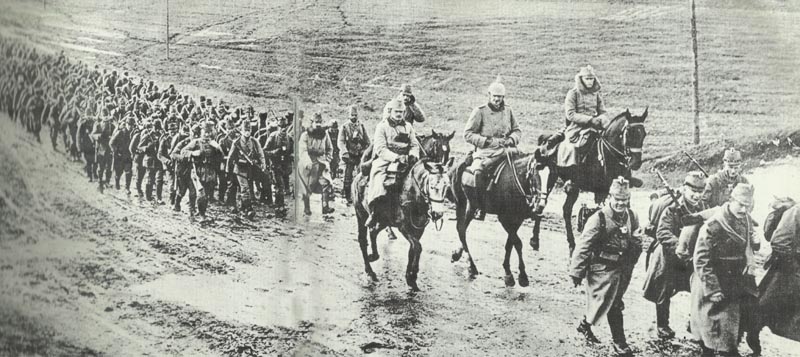 In 1915 and 1916, trench warfare required that specialized companies, detachments, and squads be attached to infantry regiments. Craftsmen with special professional qualifications were selected from the battalions and grouped into regimental engineer companies, entrenchment and tunneling companies, and concrete construction companies.
Since the formation of these special units reduced the strength of the rifle companies, this practice was eventually abandoned and special regular units were formed to perform these duties. The experience of 1916 led the Germans to establish three types of special troops within each infantry unit:
Machine Gun Detachments: 2 per company, armed with three 08/15 machine guns each.
Trench mortar detachments: 1 per battalion, armed with 4 light grenade launchers.
Intelligence, signal, and message detachments of varying strength.
The men who formed these units were not specifically listed in the regimental roll, but remained on the nominal rolls of the companies from which they were detached.
Before mobilization in 1914, only the Jäger battalions had cyclist companies, where one or two companies each were so equipped. As the war progressed, more cyclist companies were formed, and by 1917 there were about 150 of them. Later, some of the companies were combined into battalions and finally three of them into a cyclist brigade, which did a good job in March 1917 in covering the German retreat to the Hindenburg Line.
Other cyclist troops guarded the Belgian-Dutch border during the war.
In peacetime, some Jäger battalions were trained annually for mountain and winter warfare. During the war, these men formed the cadre of four ski battalions raised in Bavaria and one battalion from Württemberg.
The 1st, 2nd, and 3rd Ski Battalions formed the 3rd Jäger Regiment in the Alpine Corps. These battalions, raised in the spring of 1915, were first sent to Trentino. They were then deployed to Serbia and in the spring of 1916 to the Western Front, where they participated in the Battle of Verdun. In August 1916, they were transferred to the Carpathians and assigned to the 200th Division.
The Württemberg Ski Battalion fought in the Vosges Mountains until October 1, 1916, when it was transferred to Transylvania. It returned to the Vosges in the spring of 1917 and later went to the Italian front.
The wartime strength of the transportation section of an infantry regiment with three battalions, excluding the machine gun companies, consisted of 16 led horses, 58 two-horse wagons, and one four-horse wagon.
It was organized with 16 led horses as first line transportation, along with 12 small arms ammunition wagons and 12 mobile field kitchens. Baggage consisted of 16 baggage wagons, 122 supply wagons, 3 sutler wagons and one tool wagon.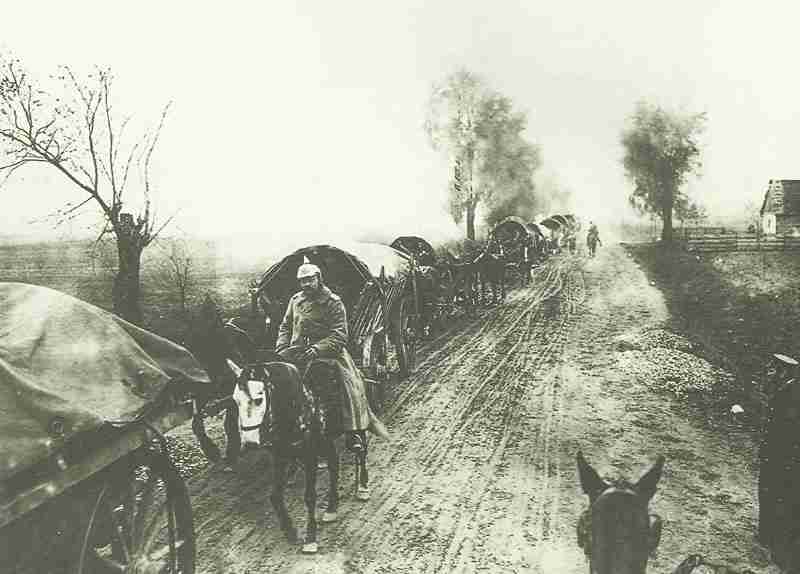 The transports were all four-horse and painted gray. The one for the battalion's forward line transports – not including the machine gun company – included 4 led horses, 4 ammunition wagons for small arms, 4 mobile field kitchens, and a medical wagon for the infantry.
The platoon for battalion headquarters consisted of 4 company baggage wagons and 5 supply wagons, including a supply wagon.
Company transportation included a led horse, a company small arms ammunition wagon with 14,000 rounds, a mobile field kitchen, a company baggage wagon, and a company supply wagon.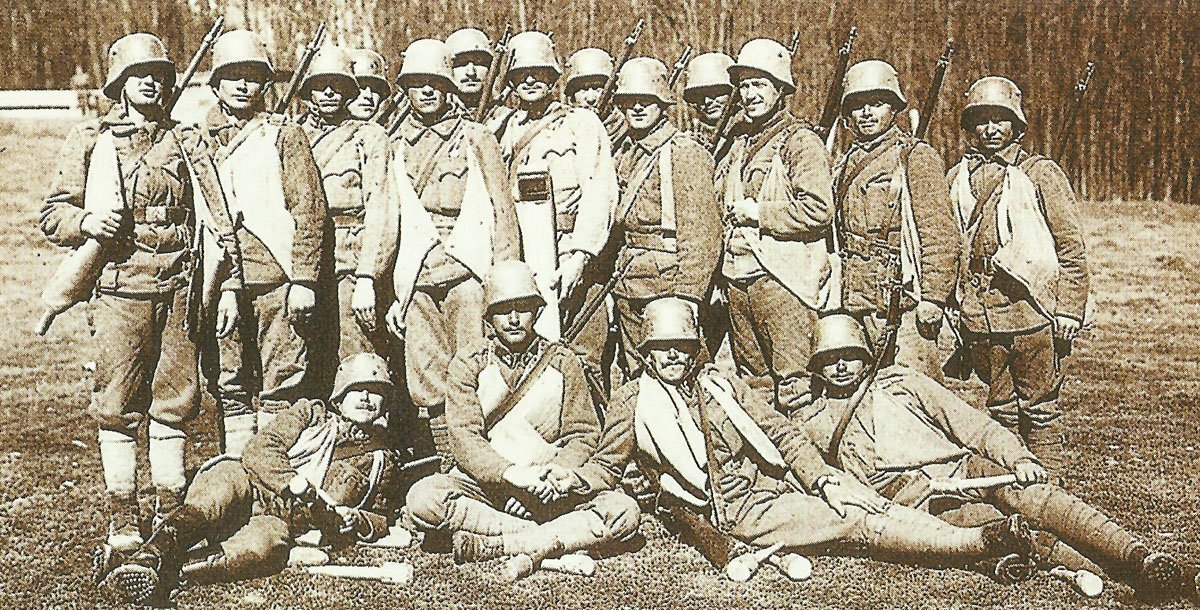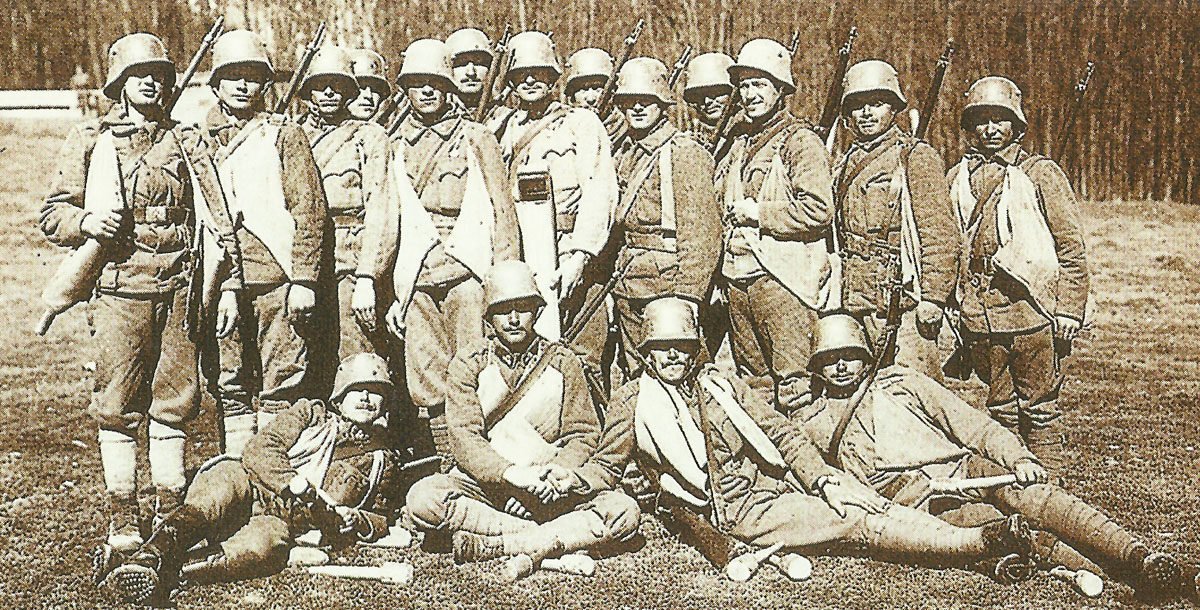 Stormtroopers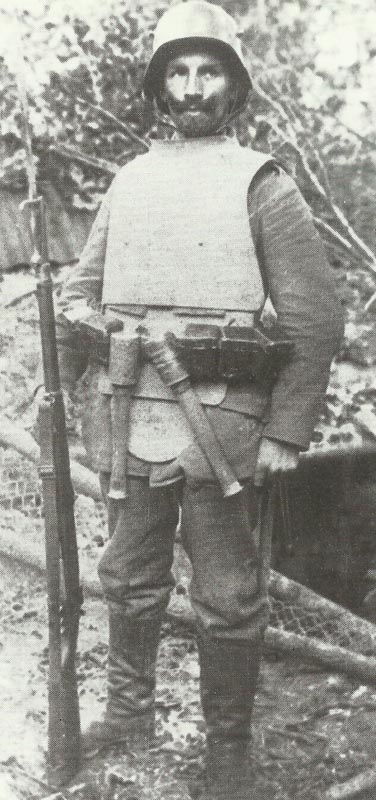 The Germans quickly recognized the potential in raising elite squads of specially selected men to act as assault squads and trench assault commandos. The men were selected for their courage and initiative and trained in special techniques required to fight in the narrow and dangerous trench systems.
These assault troops were first used at Verdun and originally consisted of teams of three. The technique consisted of rolling up the trench from the flank, with the first man of the trio armed with a machine gun mount extended shield and a sharpened entrenching tool, followed by a second man carrying a pack of short-delayed stick grenades, and a third armed with a knife or bayonet.
These assault troops proved so successful that the system was further developed until in 1916, when assault companies were formed and permanently assigned to the divisions.
These assault companies consisted of one officer and 120 enlisted men and were organized into three platoons, one assigned to each regiment of the division.
By 1918, most armies on the Western Front had developed these into assault battalions. These consisted of 4 assault companies, an infantry gun battery with a 3.7-cm trench gun, a light trench mortar detachment, a flamethrower detachment, a machine gun company, and a headquarters sometimes called a park company.
When not in action, the men served as instructors in training new recruits for these units.
The existence of the following assault battalions and assault companies is known for the year 1918:
| Battalion | Detached to Army | Battalion | Detached to Army |
| --- | --- | --- | --- |
| 1 (only company strength) | 1 Army | 2 | 3 Army |
| 3 | 7 Army | 4 (only company strength) | 4 Army |
| 5 'Rohr' (named after Captain Ulrich Rohr, the 'father' of the stormtroopers) | 5 Army | 6 Bavarian | 6 Army |
| 7 | 7 Army | 8 | 8 Army |
| 10 | in Russia | 11 | 19 Army |
| 12 (only company strength) | 7 Army | 13 | in Russia |
| 14 | Army group C | 15 Bavarian | Army group A |
| 16 | Army group B | 17 (only company strength) | 4 Army |
| 18 (only company strength) | 18 Army | | |

Here to Organization German Artillery 1914-18.
---
References and literature
The Germany Army 1914-18 (D.S.V. Fosten, R.J. Marrion)
Army Uniforms of World War I (Andrew Mollo, Pierre Turner)
Illustrierte Geschichte des Ersten Weltkriegs (Christian Zentner)
History of World War I (AJP Taylos, S.L. Mayer)
---