The Army of Greece and its uniforms in World War One.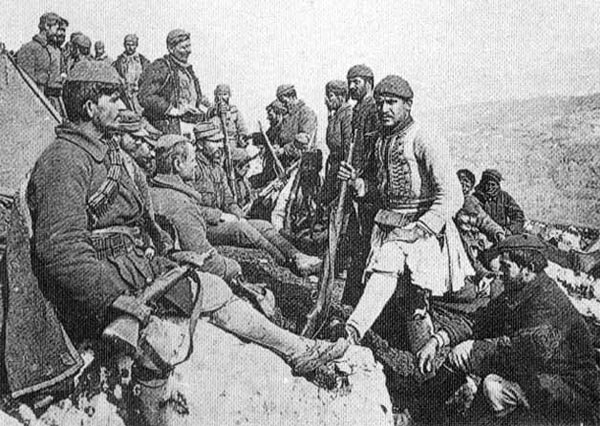 In February 1821, the Greeks' decisive revolt against the Ottoman Empire began and on 3 February 1830 they gained independence.
In July 1914 Greece under King Constantine I had a population of 4,733,013 Greeks as well as Turkish and Macedonian-Slav minorities and covering about 122,000 km² (45,000 square miles) of today's Greece, except for West Thrace (then Bulgaria) and the Italian Dodecanese Islands.
Organization of the Greek army
King Constantine was the commander-in-chief of the Greek army (Ellinikos Stratos), which was an active army of the First Line for men aged 21 to 23, a reserve army of the Second Line for men of 24 to 44 years and another reserve army of the Third Line for men aged 45 to 52 years.
Garrison troops, with engineers and signal regiments, as well as railway, bridge building engineers and motorized transport battalions were directly subordinated to Army Headquarters.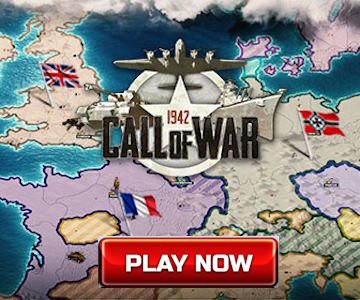 Greece was divided into five military districts, each of which mobilized an army corps (I-V, Greek A-E), but the V corps was only partially formed. There were 14 divisions (1-14).
A corps consisted of a cavalry regiment of 480 men, with four squadrons of 120 men each. A field artillery regiment with four battalions (V Corps, only three battalions), each with three batteries of 153 men each, an engineer regiment with six companies (V Corps, a battalion with four companies), a transport battalion with three companies (V Corps, only two), a medical battalion as well as between two and three divisions.
A division (actually a pure infantry division) composed of three (5th Division only two) infantry or Evzone regiments, each with three 1,045 men strong infantry battalions, each with four 253 men strong infantry coys and a machine gun platoon as well as a mountain artillery battalion (three batteries of 103 men each). There were a total of 41 infantry regiments: 33 of the Line, 5 of the Elite Evzones and three Cretan regiments.
The Royal Greek Navy (Vasilikon Naftikon) was extensive, but obsolete. It consisted of 5 Pre-Dreadnoughts, an armored cruiser, a light cruiser, 14 destroyers, 14 torpedo boats and 2 submarines.
The Army Aviation Corps (Ellinikos Polemikis Aeroporisas), set up in September 1912, grew up on three squadrons.
In addition, there were the gendarmerie (police: Elliniki Chorofilaki) with 16 foot companies and three mounted squadrons.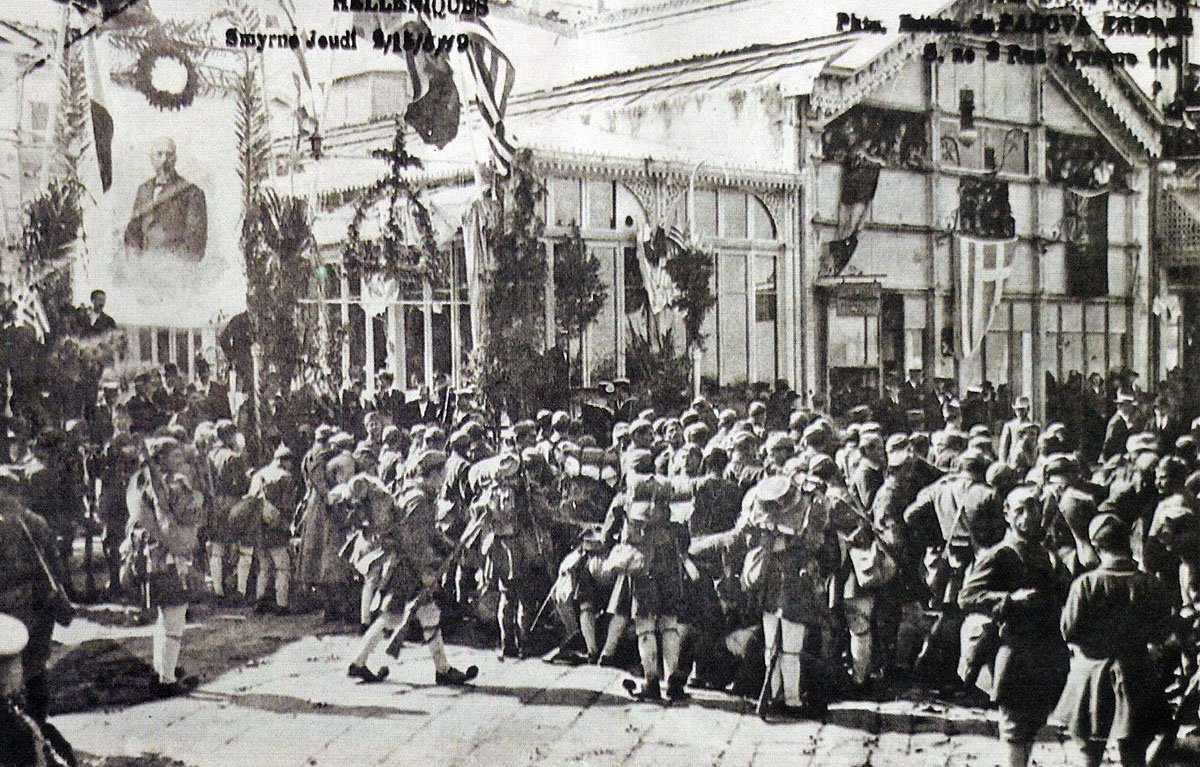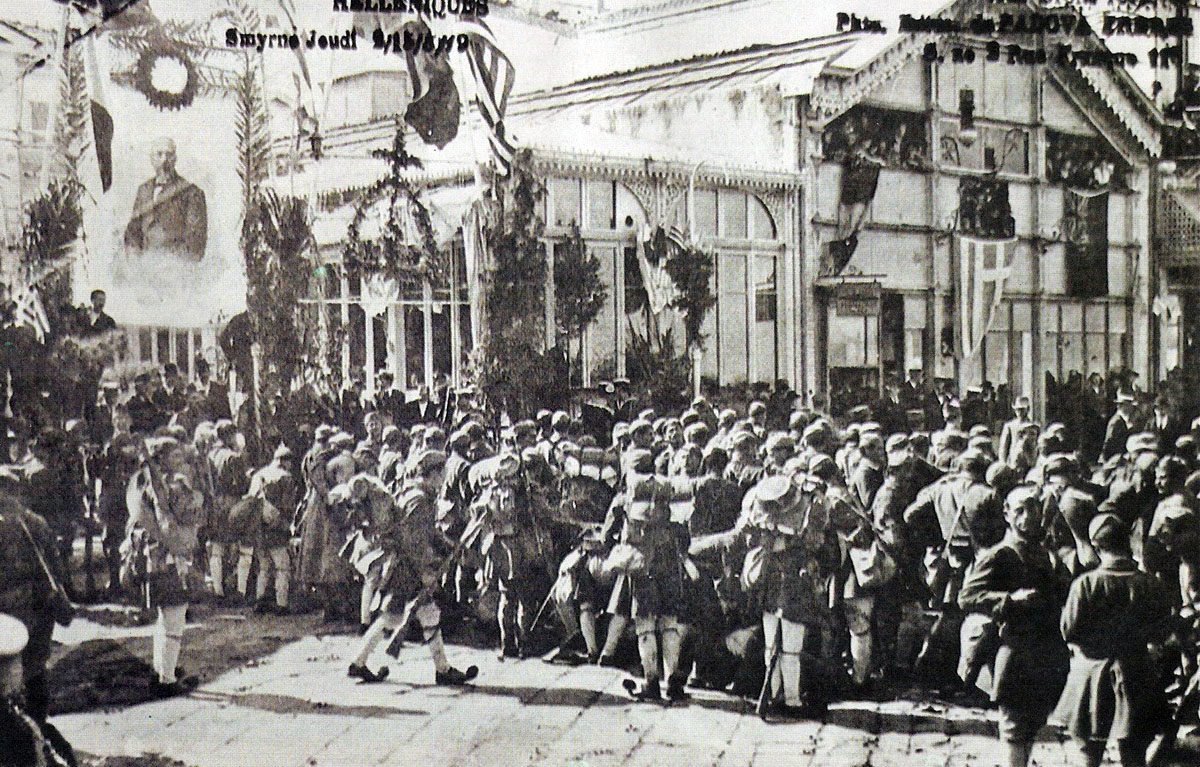 History of Greece in World War One
World War One split Greece into the neutral group of King Constantine, including the army's high commando, which did not want to be involved in the conflict, and the faction, led by Prime Minister Eleftherios Venizelos, who preferred to join the Entente (Allies).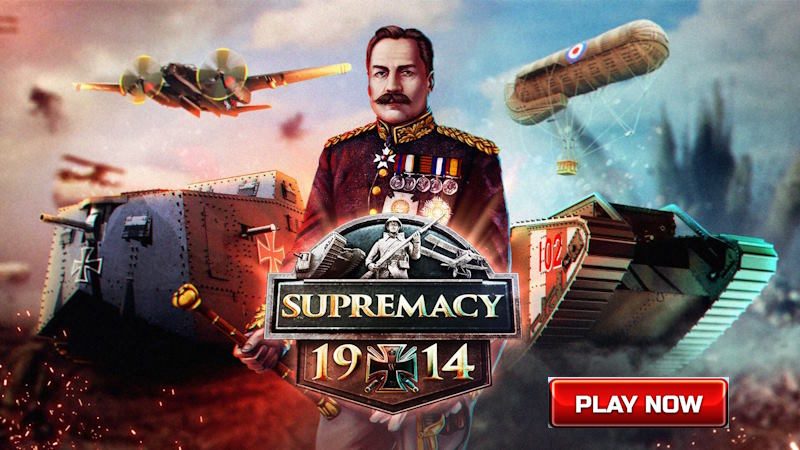 Venizelo's offer to the Allies of March 5, 1915, to send Greek troops to the Dardanelles, was rejected by King Constantine, who thus surpassed his powers as a constitutional monarch.
This led to the resignation of Venizelos and caused a lasting constitutional crisis – the 'National Schism'.
According to the Serbian-Greek alliance treaty of May 1913, Venizelos mobilized the Greek army in September 1915 and sanctioned the landing of the Allied Armee de l'Orient in Salonika on October 5.
Bulgaria then declared war on Greece on October 14, 1915, but King Constantine's determined neutrality led to surrender of Eastern Macedonia by the demoralized Greek IV Corps on September 18, 1916.
In the meantime Colonel Zymbrakakis had carried out a coup in Salonika on August 30, 1916 with the support of the Allies, and on September 29 Venizelos formed a Provisional Government, which declared war on the Central Powers on November 23.
In September 1916 – by now major-general – Zymbrakis founded the National Defense Army (later called a Corps) with 60,000 volunteers. These formed the infantry divisions Arkhipelagnos, Kritis, Seres and Kiklades kai Ionia, named after the home areas of the volunteers. The first three of these divisions fought on December 1916 on the Macedonian front.
On October 10, 1916, the Allies seized the ships of the Greek navy and blocked a large part of Greece to put pressure on King Constantine. However, the Allied invasion of Thessaly finally led to the situation that the position of the king becoming untenable. He abdicated on June 12, 1917, and went into exile voluntarily.
On June 27, Greece, under Prime Minister Venizelos, broke off relations with the Central Powers and declared war on July 2. Meanwhile, the Allies had returned the ships of the Greek navy.
By July 1918 there were a total of 250,000 men in 7 Greek divisions on the Macedonian front. The I Corps (1st, 2nd, 13th Infantry Division) in East Macedonia, II Corps (3rd, 4th, 14th Infantry Division) in the section on Lake Dorian, as well as the 9th Infantry Division.
These associations distinguished themselves in the last three months of the war and restored Greece's reputation among the victorious allies.
Uniforms of the Greek Army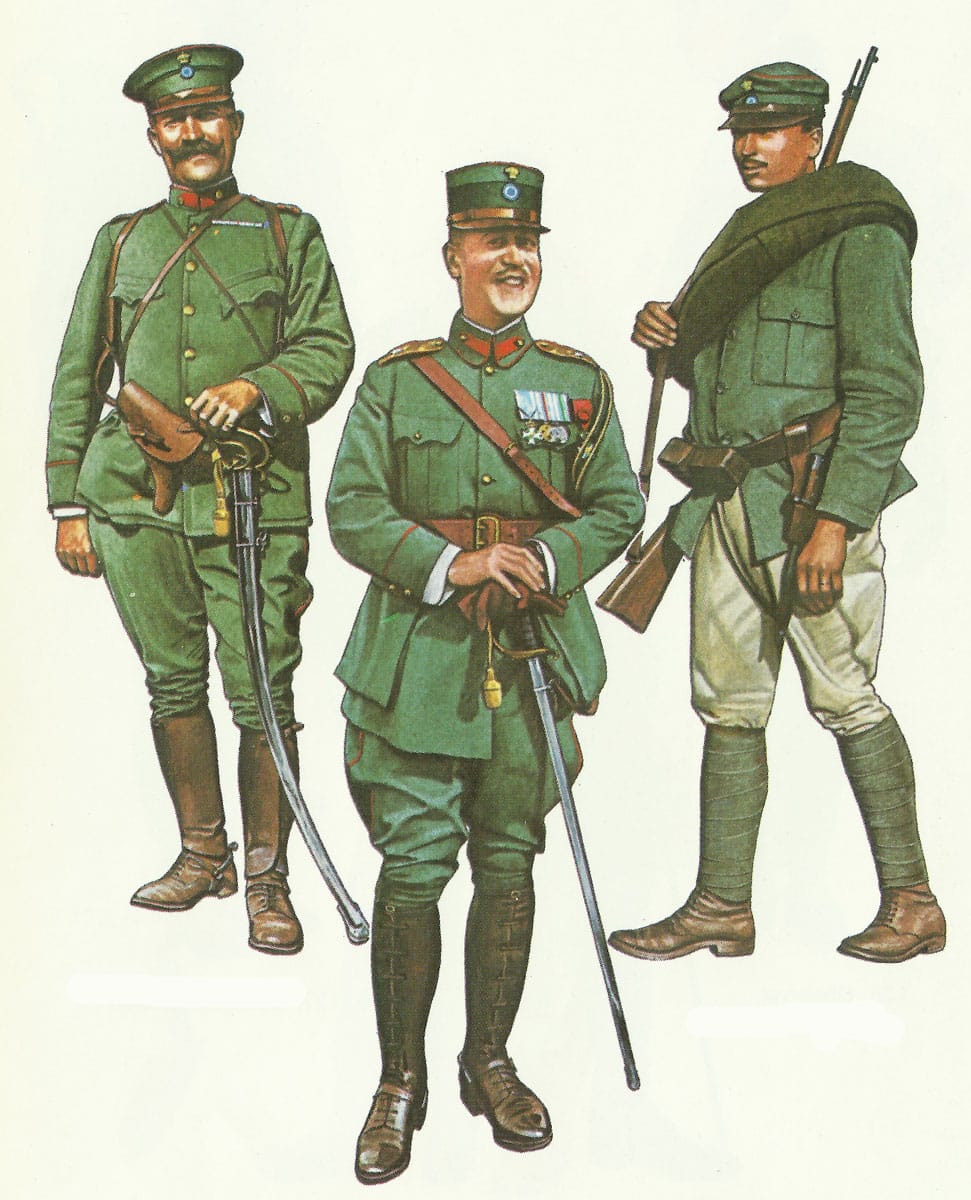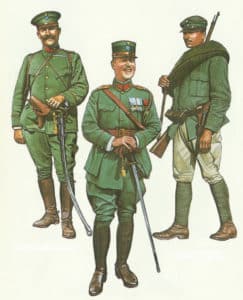 In 1912, while in the process of being reorganized, the Greek Army adopted a greenish khaki field uniform.
Not illustrated in the picture at the top are the double-breasted greatcoat for officers with fall collar, two rows of four metal buttons and turn-back cuffs, and the single-breasted greatcoat for other ranks. In addition to the peaked cap there was a khaki or light-blue side cap in the French cut.
The rifles – in Greek Evzones – wore a khaki fez, and knee-length single­-breasted tunic with fall collar, five buttons in front, turn-back cuffs, and vertical slash pockets with three-pointed flaps in front of the waist belt.
The collar pocket flaps and cuffs were piped in red. Special tight-fitting trousers were in either white or khaki cloth and were fastened with blue and white garters just below the knee. Shoes were made of natural colored leather with a black woolen pompom on the front.
Rank distinctions appeared on the kepi in the form arrows of bright metallic or khaki silk lace and braid, and on the colored shoulder straps on the tunic and greatcoat. Other ranks wore their rank badges on the cuffs. The white (silver) or yellow (gold) lace was edged in different colors according to the arms-of-service.
Orders of Battle Greek Army
Orders of Battle of the Greek Army from October 5, 1915, to November 11, 1918.
I ('A') Corps (Athens, deployed in Rumelia and Thessaly)
1st cavalry regiment, 1st field artillery regiment, 1st Engineer regiment, 1st transport battalion, medical battalion
1st Division (Larissa, deployed in Thessaly): 4th, 5th Infantry Regiment, 1/38 Evzone Regiment, I Mountain Artillery Battalion
2nd Division (Athens, deployment of West Rumelia): 1st, 7th, 34th Infantry Regiment, II Mountain Artillery Battalion
13th Division (Halkida, deployment in East Rumelia): 2nd, 3rd Infantry Regiment, 5/42 Evzone Regiment, III Mountain Artillery Battalion
II ('B') Corps (Patras, deployed in the Peloponnese)
2nd Cavalry Regiment, 3rd Field Artillery Regiment, 2nd Engineer Regiment, 2nd Transport Battalion, medical Battalion
3rd Division (Patras, deployment West Peloponnese): 6th, 12th Infantry Regiment, 2/39 Evzone Regiment, III Mountain Artillery Battalion (? – already listed with 13th Division)
4th Division (Nafplio, deployed East Peloponnese): 8th, 11th, 35th Infantry Regiment, IV Mountain Artillery Battalion
14th Division (Kalamat, deployment of South Peloponese): 9th, 36th Infantry Regiment, 1/14 Cretan Regiment, XIV Mountain Artillery Battalion
III ('C') Corps (Salonika, deployment in Macedonia)
3rd Cavalry Regiment, 5th Field Artillery Regiment, 3rd Engineer Regiment, 3rd Transport Battalion, 3rd Medical Battalion
10th Division (Veria, deployed Central Macedonian): 29th, 30th Infantry Regiment, 4/41 Evzone Regiment, X Mountain Artillery Battalion
11th Division (Salonika, deployment Central Macedonia): 13th, 27th, 28th Infantry Regiment, XI Mountain Artillery Battalion
12th Division (Kozani, deployment West Macedonia): 31st, 32nd, 33rd Infantry Regiment, XII Mountain Artillery Battalion
IV ('D') Corps (Kavala, deployment in East Macedonia)
4th Cavalry Regiment, 7th Field Artillery Regiment, 4th Engineer Regiment, 4th Transport Battalion, 4th Medical Battalion
5th Division (Drama, deployment West Thrace): 22nd Infantry Regiment, 3/37 Cretan Regiment, V Mountain Artillery Battalion
6th Division (Seres, deployment East Macedonia): 16th, 17th, 18th Infantry Regiment, VI. Mountain Artillery Battalion
7th Division (Kavala, deployment West-Thrace): 19th, 20th Infantry Regiment, 2/21 Cretan Regiment, VII Mountain Artillery Battalion
V ('E') Corps (Ioanina, deployed in Epirus)
5th cavalry regiment, 9th field artillery regiment, 5th Engineer regiment, 1st Transport battalion, 1st medical battalion
8th Division (Preveza, deployed southern Epirus): 10th, 15th, 24th Infantry Regiment, VIII Mountain Artillery Battalion
9th Division (Ioanina, deployed more northern in southern Epirus): 25th, 26th, 3/40 Evzone Regiment, IX Mountain Artillery Battalion
National Defense Army (Corps) (at the front in Macedonia)
Arkhipelagos Division: 1st group of division
Kritis Division: 1st group of Division, later with British XVI Corps
Seres Division: 1st group of Division, later with British XVI Corps
Army Air Corps
Squadron 531 (fighters), Squadron 532 (bombers), Squadron 533 (recon)
---
GREECE (July 2, 1917 – November 11, 1918)
Soldiers available on mobilization = ?
Army strength during the war = 355,000
KIA Military = 5,500
Wounded Military = 9,000
Civilian losses = = unknown (but in Greece itself probably small, see Turkish Army)
---
References and literature
Army Uniforms of World War I (Andrew Mollo, Pierre Turner)
World War I Infantry in Colour Photographs (Laurent Mirouze)
Armies in the Balkans 1914-18 (Nigel Thomas, Dusan Babac)
Armies of the Balkan Wars 1912-13 (Philip S. Jowtt)
History of World War I (AJP Taylos, S.L. Mayer)
---