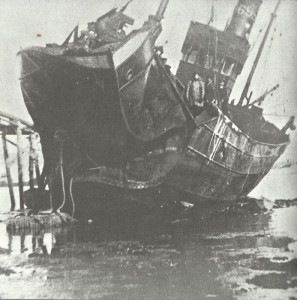 War Diary World War One for Wednesday, December 16, 1914:
Sea War
North Sea: 100 mines laid off by cruiser Kolberg near Scarborough. 20 of them swept on December 19, but 21 vessels sunk before field is cleared in April 1915.
Whitby and Hartlepool bombard for 30 mins by Hipper's 5 battlecruisers: 2 fishing boats sunk, 694 civilians and 35 servicemen casualties. Hipper escape Royal Navy countermoves by 1545 hours thanks to signalling error and poor visibility. Admiral Ingenohl, who is covering Hipper with battle fleet loses chance to destroy Beatty and Vice-Adm Warrender's 6 battleships.
Channel: Royal Navy bombards Westeinde (German occupied Belgium).
Eastern Front
Poland: Russians end retreat and stand on Bzura ­-Ravka-Pilitzu line 30 miles (ca. 48 km) southwest of Warsaw.