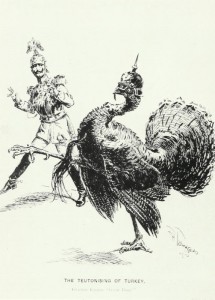 War Diary World War One for Tuesday, January 26, 1915:
Middle East
Egypt: Turk feint attacks at Kantara and also at Kubri (7 miles (ca. 11 km) north of Suez) until January 27.
Persia: Chernozubov's 7,000 men with 16 guns defeats c. 5,000 Turks at Saflan until January 28 and regains Tabriz on January 30.
Home Fronts
Britain: Churchill and French Minister of Marine Augagneur agree to French participation under British command in Dardanelles attack.
Allies extend September 5, 1914 London agreement to Turkey.
Russia: Grand Duke Nicholas replies Dardanelles action imperative but Russia cannot help.
Western Front
Flanders: Wilson (promoted to Lieutenant-General on February 18) becomes BEF Chief Liaison Officer to Foch (­until December 21, 1915).
Aisne: French XVIII Corps recover lost ground at Craonne. Front static there to April 16, 1917.
Eastern Front
East Prussia: New German Tenth Army (4 corps) formed under Eichhorn for Masurian offensive (plans ready on January 28).
Carpathians: Brusilov's success near Dukla Pass. Extra corps on its way from Northwest Front. Austrian ammunition exhausted.
German-Austrian Südarmee attacks, gains 100 yards (ca. 91 m) per day. Brusilov strikes back on January 27, but repulsed near Beskid Pass on January 28.
Neutrals
Italy: War Minister General Zupelli tells cabinet Army not ready until mid-April.
Switzerland: Franco­-Swiss petrol agreement.