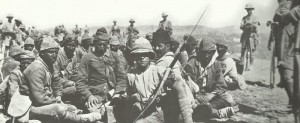 Diary for Thursday, April 6, 1916:
Middle East
Mesopotamia – First Battle of Sannaiyat (until April 8): 7th Indian Division charges into a 'torrent of death' three times, gains only 500 yards, 16 miles east of Kut. First few motor ambulances in use.
Western Front
France: Joffre circular abolishes special courts-martial at Front; he suspends Argonne attack to help Verdun, as too many troops needed.
Verdun: ­German advance at Hill 304, but repulsed following day.
Flanders­: Germans retake crater at St Eloi, but British 2nd Division retakes it on April 10.
Southern Fronts
Dolomites: 59 Italian survivors (from 208 soldiers) driven off Rauchoe 6,493-feet summit, but another detachment briefly captures Punta Serauto (9,715 ft) in Marmolada group (until April 14), then Captain Menotti Garibaldi (a grandson) retakes it.
Trentino: Cadorna has detached 9th and 10th divisions with more Alpini and 72 extra guns to First Army, after April 24 sends another brigade together with 40 more guns. Cadorna visits First Army defences (end of April).
African Fronts
East Africa: 400 Portuguese troops occupy Kionga Triangle (until April 10), south of river Rovuma mouth.