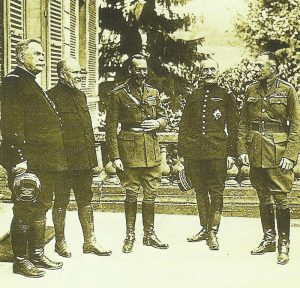 Diary for Saturday, August 12, 1916:
Western Front
France: Joffre (with Foch) and Haig confer at Beauquesne. Haig proposes prelim combined attack from the Somme to High Wood on August 18. King George and President Poincare also meet at Beauquesne (5 miles south-south-east of Doullens).
Battle of the Somme: British advance on a mile front northwest of Pozieres. German High Wood counter-attack (and on August 17-19). French gain German third line trenches north of river.
Eastern Front
Brusilov offensive: Brusilov now claims 378,408 PoWs; 405 guns; 1,326 MGs, 367 mortars, 100 searchlights and 15,000 square miles of territory at cost of 550,000 casualties.
Galicia: Suedarmee finally yields Strypa winter line and retreats by night 10 miles to river Zlota Lipa. Lechitski occupies Nadworna.
Southern Fronts
Isonzo: Lombardia Brigade storms Nad Logern and San Grado di Morna, while Regina Brigade occupies Oppachiasella ruins; 1,565 PoWs in all.
Middle East
Armenia: Turk III Corps engages 5th Caucasus Rifle Division in Boran area but is blocked (until August 13).