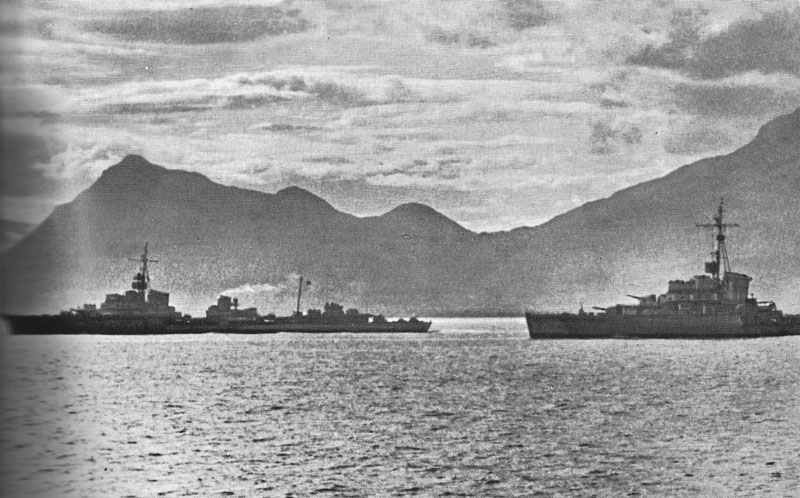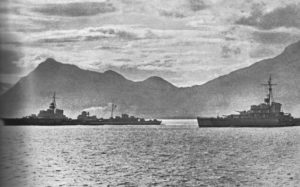 WW2 War Diary for Thursday, December 31, 1942:
Sea War
Atlantic – BATTLE OF THE BARENTS SEA (Operation Regenbogen = 'Rainbow'): Heavy cruisers Luetzow and Admiral Hipper make repeated, bungled, attempts to destroy Arctic Convoy JW 51B – after which Luetzow is to break out into Atlantic (Operation Morgenroete = 'Aurora'). Resourceful tactics by British destroyers and cruisers plus extraordinary vacillation of German commanders results in fiasco. 2 British destroyers lost, but convoy escapes intact and Germans retire ignominiously to Norway (1 destroyer lost). Hitler is beside himself with fury and orders immediate scrapping of battle fleet.
Gulf of Mexico: 107 ships attacked by U-boats in 'Gulf Sea Frontier' area during 1942; 25 sunk off New Orleans and 25 off Florida; 882 casualties. (Only 4 ships attacked in 1943.)
Merchant shipping losses in December 1942: 64 Allied ships with 314,745 tons in Atlantic, 9 Allied ships with 34,157 tons elsewhere.
34 Axis ships with 97,615 tons in Mediterranean, 25 Japanese ships with 88,364 tons in Pacific.
5 German U-boats and Italian submarines sunk in the Atlantic, Arctic or Baltic (worldwide total of 3 German losses), 22 new U-boats operational, 391 U-boats of all types total in service.
Total Shipping Losses 1942:
Allied and Neutral: 1,570 ships totalling 7,915,737 t.
Axis: Germans 86 U-boats, Italians 22 submarines, Japanese 16 submarines.
Politics
International Red Cross is now spending £375,000 per month on food parcels for PoWs.