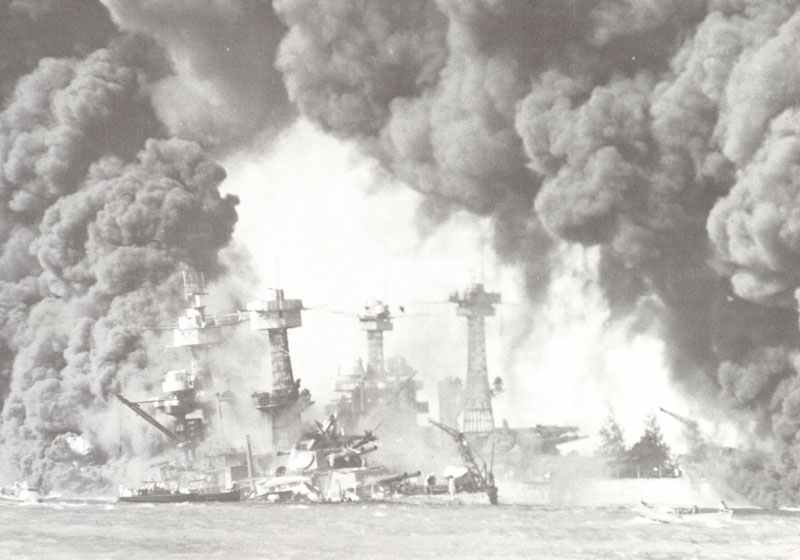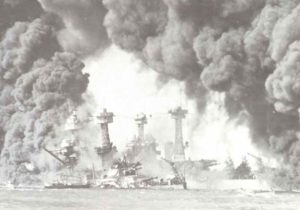 WW2 War Diary for Sunday, December 7, 1941:
Sea War
Pacific: JAPAN ATTACKS PEARL HARBOR. 350 dive bombers, torpedo planes and Zero fighters in 2 waves from 6 carriers attack US Pacific Fleet and air bases in Hawaii. Battleship Arizona explodes, battleships California, Nevada, Oklahoma, West Virginia sink; Maryland, Pennsylvania and Tennessee damaged. 10 other warships sunk or seriously damaged. 188 US aircraft destroyed.
Casualties – American: 2,403 killed, 1,178 wounded; Japanese: 55 killed (29 aircraft lost). Midget submarine attacks on Pearl Harbor fail completely: 5 midgets sunk ('mother' submarine I-70 sunk December 10).
Japanese land at Singora and Patani (Thailand) and Kota Bharu (Malaya).
see also: US Navy in late 1941
Politics
Japan: GOVERNMENT DECLARES WAR ON USA AND BRITISH COMMONWEALTH.