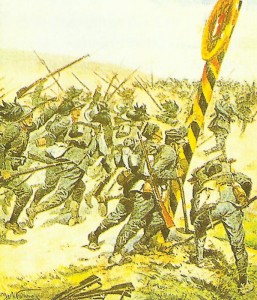 Diary for Sunday, May 23, 1915:
Southern Fronts
ITALY ENTERS WAR. Austrian guns in Carnic Alps fire first shots shortly before midnight.
Politics
ITALY DECLARES WAR ON AUSTRIA.
See also: Italian Army.
Allies warn Turkey on Armenian massacres.
Western Front
Flanders: Unsuccessful German counter-attack at Festubert.
Sea War
Dardanelles: Royal Navy submarine E11 (Nasmith) torpedoes Turk torpedo gunboat Pelngi Deria (salvaged) off Seraglio Point, Constantinople. Then, on May 25, torpedoes Turk transport Stamboul in Constantinople harbor, one of 8 victims on this cruise.
Air War
Italy: Italian air force has 6 squadrons of Bleriots, 4 squadrons of Nieuports, 4 squadrons of Farmans (total 79 operational aircraft); also 3 floatplanes.