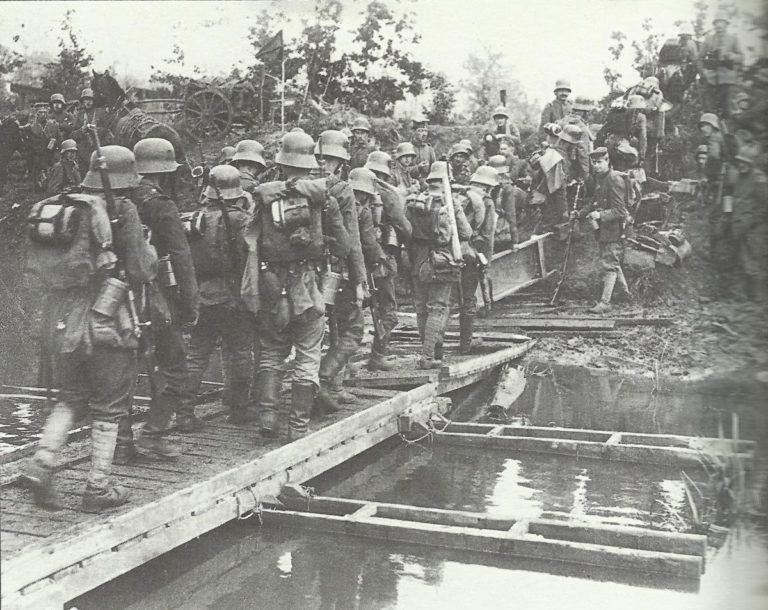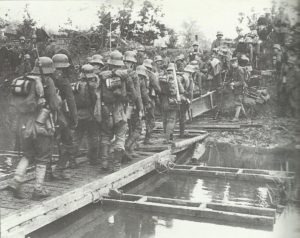 World War One Diary for Monday, May 27, 1918:
Western Front
Aisne – THIRD BATTLE OF THE AISNE (until June 6): German Bluecher and Yorck Offensives against Anglo-French on Chemin des Dames. Bruchmueller 4,000-gun bombardment on 24-mile front from 0100 hours. From 0340 hours 25 German divisions attack 4 tired French and 4 weak British divisions on river Aisne between Soissons and Reims, river first reached in under 6 hours. Germans capture Chemins des Dames and Craonne in record advance up to 12 miles destroying 4 divisions. Kaiser Wilhelm Geschuetz (long-range gun) bombard Paris (104 shells until June 11). 1 million German rounds phosgene and diphenyl­chlorarsine vs French troops; 4,980 gassed (71 deaths) until June 5.
Eastern Front
Siberia: Czechs take over Chelyabinsk and refuse to surrender arms at Penza, take town on May 28 (400 Red casualties) but evacuate it on May 31.
Finland­: Mannerheim resigns as C-in­-C over future army organization (excessive German influence), leaves for Stockholm on June 1.
Middle East
Georgia: Independent Republic declared at Tiflis under German protectorate (Colonel Kress), Trans-Caucasian Federal Government dissolved.
Azerbaijan: Tartar National Council proclaims Republic.
Air War
Germany: 12 F.E.2s (1 lost) of No 106 Squadron raid Kreuzwald power station and Metz-Sablon railway. An F.E.2 force-lands in enemy lines, crew escape and rejoin squadron on May 30. 3 Handley Pages attack Mannheim and Kreuzwald (night May 27-28).
Western Front: JG1 and 3, 5 Jagd­staffeln, 14 Schlachtstaffeln , 23 Fliegerabteilungen and 2 Bombengeschwader support Ludendorff's Aisne offensive after lavish air reconnaissance, 19 planes lost until May 30, mainly to anti-aircraft fire; 3,323 fighter sorties until June 18.
France: 15 German aircraft (1 lost) raid Paris (4 bombs).
Adriatic: British bomb Durazzo, sink Austrian torpedo boat.