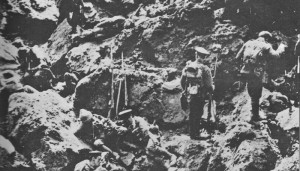 Diary for Sunday, May 9, 1915:
Western Front
ALLIED SPRING OFFENSIVE begins: French estimate only 4 1/2 German Western Front reserve divisions (actually 7 1/2, but only 2 in north), pit 15 divisions against 4 German on 8-mile front.
Britain: First New Army divisions leaves for France, 9th (Scottish) Division, 12th (Eastern) Division follows on May 29.
Flanders­ –Battle of Aubers Ridge: British infantry attack at 0530 hours, after 40-min poor shelling by 637 guns (shell shortage) costs 4,000 casualties (watched by C-in-C) to box-protected V-shaped MG emplacements every 20 yards (ca. 18 meters). British recapture Wieltje east of Ypres.
Artois – Second Battle of Artois: After 4 hours final shelling, from 1000 hours, Petain's corps with Moroccan (including 2nd Regiment of Foreign Legion) and 77th Division storms through up to 3 1/2 miles in 90 minutes on 4-mile front onto Vimy Ridge but pushed back losing Souchez before 18th Division can reinforce; 70th Division cuts off Carency, XX Corps storms La Targette. French X Corps has 3,000 casualties in 10 minutes northeast of Arras.
Air War
Western Front: Royal Flying Corps (9 squadrons with 103 aircraft) attempts to refine contact patrol tactics at Aubers Ridge. British infantry optimistically given 7 ft (2.13 m) x 2 ft (0.61 m) strips of white cloth to drape on parapets of captured trenches for report by 3 radio-equipped BE2s (42 signals) cruising at 4000 ft (ca. 1,219 m).
Eastern Front
Kaiser arrives at Pless OHL headquarter.
Baltic Provinces: Lauenstein beaten at Krakinow, retreats next day and evacuates Shavli on May 11.
Middle East
Gallipoli: Message from Jack Churchill to Winston Churchill: 'It has become siege warfare again as in France'. Hamilton asks Kitchener for 2 more divisions (52nd division granted next day), requests 4 more.
Neutrals
USA: Colonel House urges President Wilson to declare war.
Italy: Partial mobiliza­tion ordered.