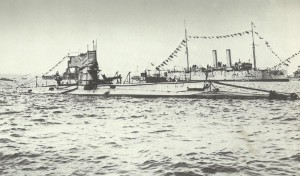 War Diary World War One for Sunday, December 13, 1914:
Sea War
Dardanelles – First battleship sunk by subma­rine: old Turk battleship Messudieh sunk at anchor in shoal water north of Kephez Point by RN submarine B11 (Holbrook) after passing five rows of mines and returning without compass. Holbrook awarded first naval Victoria Cross of the war.
Western Front
Flanders: Germans pull back from Yser Canal.
Southern Fronts
Serbia: Frank informs Potiorek that Belgrade cannot be held. Serb Third Army retakes Obrenovac. Serb First Army reoccupies Loznica-Sabac line. Fighting in the west almost over.
Neutrals
Italy: Mussolini speaks in Parma 'Neutrals never dominate events. They always sink. Blood alone moves the wheels of history'.