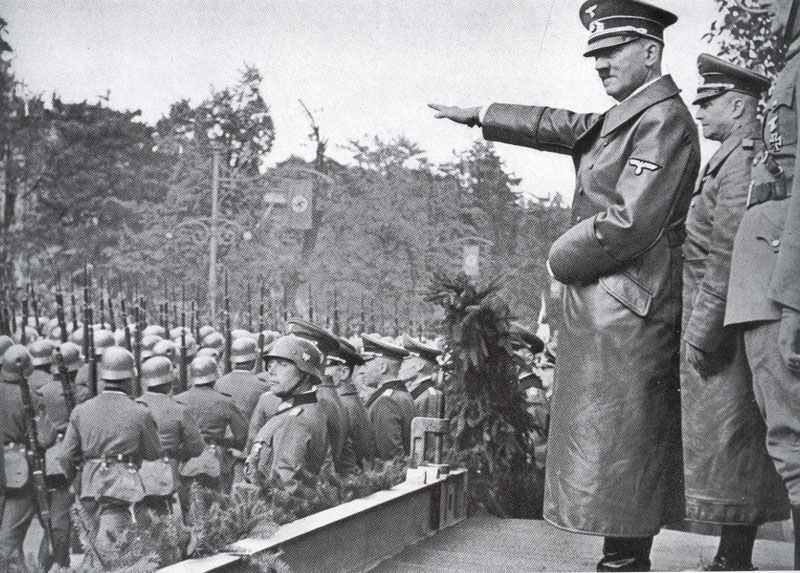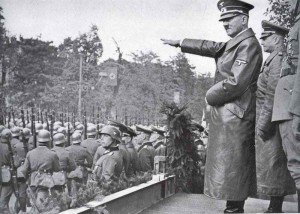 WW2 War Diary for Thursday, October 5, 1939:
Poland
End of Polish campaign. Germans 'mopping up' Polish troops still at large between river Vistula and river Bug.
Hitler flies to Warsaw and reviews victory parade.
105,000 Polish Soldiers escaped abroad to Romania and will become the Polish armed forces in exile.
Sea War
Eight groups of British and French warships hunt Admiral Graf Spee in Atlantic and Indian Oceans.
Pocket­-battleship Deutschland sinks SS Stonegate in North Atlantic.
Politics
Soviet-Latvian Mutual Assistance Pact. Soviet forces to be based in Latvia.
Home Fronts
France: Chamber of Deputies prorogued and 26 Communist deputies arrested.
POLISH CAMPAIGN LOSSES:

| | Germany | Poland | Russia |
| --- | --- | --- | --- |
| Killed Soldiers | 10,572 | 66,300 | 734 |
| Wounded Soldiers | 30,322 | 130,000 | ? |
| POWs | - | 967,000 (750,000 to Germany) | - |
| Tanks | 217 | ? | ? |
| Planes | 285 | 333 | ? |