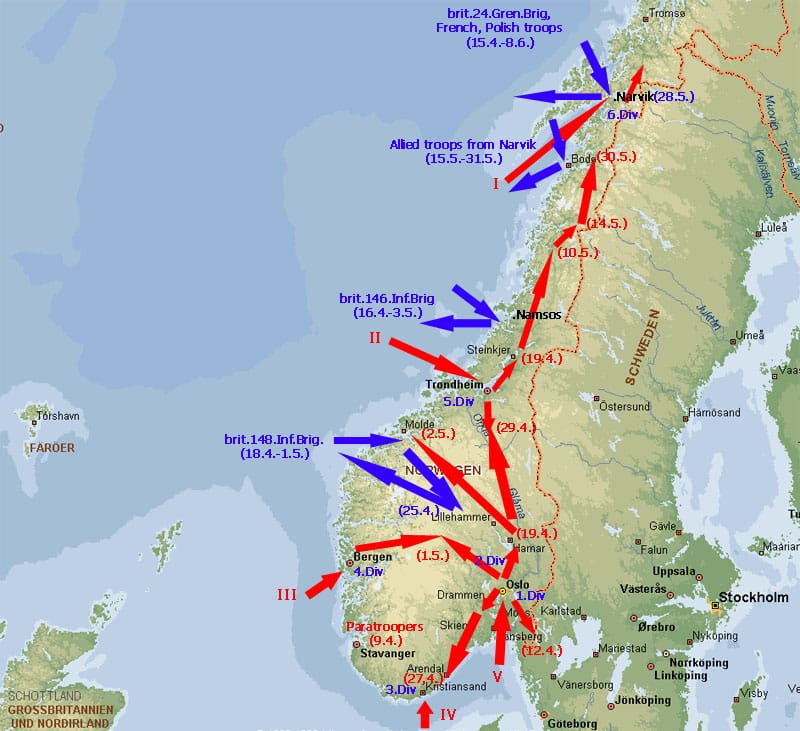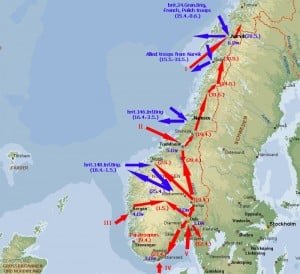 Diary for Tuesday, April 9, 1940:
Norway
GERMAN INVASION OF NORWAY (Weserübung Nord = Operation Weser Crossing North) with 6 regiments, 1 parachute battalion, 888 aircraft (345 bomber, dive-bomber and fighters, 543 transport and reconnaissance planes), 2 battlecruisers, 1 pocket-battleship, 7 cruisers, 14 destroyers, 30 U-boats. Germans land at Oslo, Kristiansand, Stavanger, Bergen, Trondheim and Narvik. Norwegian coastal batteries sink cruiser Blücher in Oslo Fjord (1,600 killed). Airborne troops seize Fornebu Airport (Oslo) and Stavanger-Sola airfield. German destroyers sink Norwegian armoured ships Eidsvold and Norge at Narvik and land troops.
Norwegian garrison betrayed by its commander, Colonel Sundlo. King Haakon escapes German trap at Oslo. Vidkun Quisling proclaims himself head of Norwegian Government and says 'I shall be called the big traitor'.
Denmark
GERMAN INVASION OF DENMARK (Weserübung Süd = Operation Weser Crossing South) with 2 divisions, 1 brigade group and 1 battalion of airborne troops, 60 aircraft, 2 old battleships, light warships and auxiliaries. Germans land at Copenhagen, Aalborg Airfield, Esbjerg and other towns and seize Jutland-Funen Bridge. Danish troops offer some resistance in South Jutland and Royal Guard makes brief stand at Amalienborg Palace, Copenhagen.
Me 110s strafe Vaerlose Airfield, HQ of Danish Air Force and destroying many planes (one Danish fighter destroyed in combat). He 111 bombers drop leaflets over Copenhagen.
No resistance from Danish Navy.
Sea War
British Home Fleet approaches Bergen, but is forced to withdraw by German land-based bombers (47 Ju 88s and 41 He 111s). Battleship Rodney and 3 cruisers damaged, destroyer Gurkha sunk and 4 Ju 88 bombers shot down.
Battlecruisers exchange fire south-west of Narvik: Renown and Gneisenau both slightly damaged.
19 British submarine commence intensive operations in Norwegian Sea, Skagerrak, Kattegat and North Sea. Sub Truant cripples light cruiser Karlsruhe in Skagerrak. German torpedo boat sinks the hulk later.
Politics
German Memoranda to Denmark and Norway: both countries to be given German 'protection' for the duration of the war. Britain promises all possible military aid to Norway.
Home Fronts
Britain: Death of Mrs Patrick Campbell, actress; aged 75.