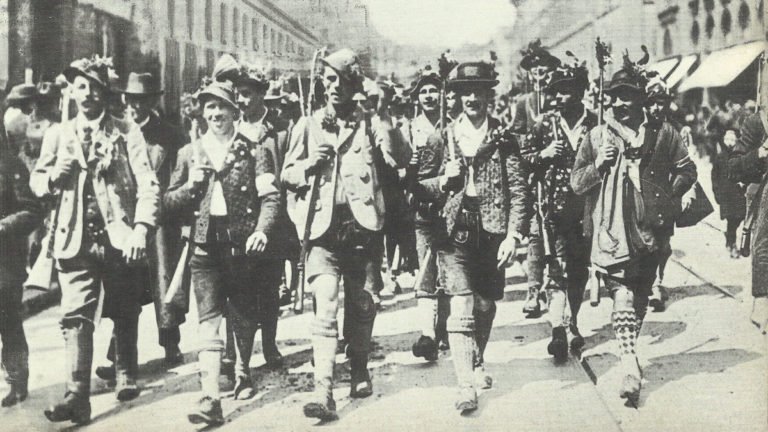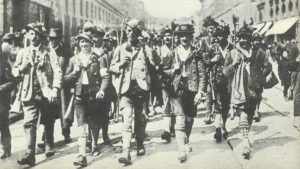 World War One Diary for Thursday, May 1, 1919:
Germany: Government troops retake Munich from Spartacists after they murder 10 hostages. Reprisals and death sentences (until June 14) raise deaths to 719 since January 7 (including 58 Russian ex-PoWs who joined Bavarian Red Army).
France – Peace Process: Commission for protection of minorities in new and other states appointed. 2 people die and over 800 injured in Paris Socialist Anarchist riots.
Austria: Yugoslavs take Klagenfurt.
Russia: In May in South 228,000 Reds plus 400-550 guns vs Denikin's 50,000 men (General Mai­Maevsky new C-in-C Volunteer Army). Trotsky visits Ukraine for firs time, 'The prevailing state of chaos, irresponsibility, laxity and separatism exceeds the most pessimistic expectations.' Cheka gets 100,000 internal security troops. Communist International May Day Appeal: 'Before a year has passed, the whole of Europe will be Soviet.'
North Russia – Murmansk sector: 3,000 Allies advance and take Maselskaya (­May 3). Archangel sector: Reds repulsed (May 2 and 10).
Western Russia­: Poles take Svensiani.
South Russia: Reds take Mariupol on Sea of Azov. RAF No 47 Squadron destroys 15 Red planes (until May 31).
Britain: RFP falls 6% to 107%. Civil flying allowed. Field Marshal Lord French's 1914 published. Government appoints Special Commission to help Belgium industrial reconstruction and in principle accept 48-hour week and minimum wage proposals.
USA: During May American Legion 2nd Caucus at St Louis, Mo, completes constitution.