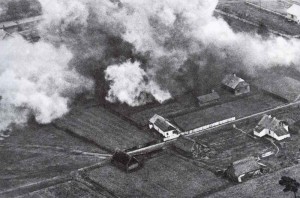 WW2 War Diary for Wednesday, September 6, 1939:
Poland:
Panzers take Tomaszow and Kielce, south-west of Warsaw and outflanking two Polish armies. Germans announce capture of Cracow.
Hitler visits General Guderian's XIX Panzer Corps on North-East front. Polish Government leaves Warsaw for Lublin.
Air War
Two RAF Spitfire fighters shoot down 2 Hurricane fighters in error ('Battle of Barking Creek').
Sea War
Royal Navy Northern Patrol formed (8 cruisers). First British East Coast convoy sails.
Germany's largest liner, Bremen (52,000 t) arrives at Murmansk (Northern Russia), from New York.
Diplomacy
SOUTH AFRICA DECLARES WAR ON GERMANY.
Spain declares her neutrality.
Home Fronts
France: 72-hour working week introduced in munitions industry.