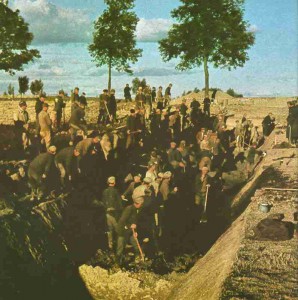 WW2 War Diary for Monday, July 31, 1944:
WESTERN FRONT
US 1st Army breaks through at Avranches.
RUSSIAN FRONT
Red Army 1st Belorussian Front reaches outskirts of Warsaw. 3rd Belorussian Front reaches Gulf of Riga, thereby cutting off German Army Group North. 2nd Belorussian Front reaches East Prussian border.
BURMA
53,000 Japanese die during Imphal-Kohima battles and subsequent retreat to the Chindwin.
MARIANAS
Americans storm Japanese positions on Tinian.
SEA WAR:
Pacific: Americans land at Sansapor, near northwest tip of New Guinea.
Merchant shipping losses in July 1944: 12 Allied ships with 48,580 tons in Atlantic, 5 Allied ships with 30,176 tons elsewhere.
66 Japanese ships with 251,921 tons in Pacific.
22 U-boats sunk in the Atlantic, Arctic or Baltic (worldwide total of 22 losses), 15 new U-boats operational, 461 U-boats of all types total in service.
HOME FRONT: GERMANY
Guderian to combine his existing duties, as Inspector­ General of Armored Troops, with new position of COAGS.
HOME FRONT: USA
Death of Marguerite A. Le Hand, personal secretary to President Roose­velt; aged 46.