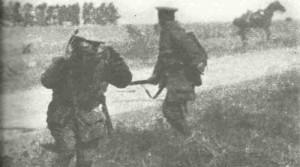 War Diary of World War One for September 24, 1914:
Western Front
Germans retake and then lose again Peronne on river Somme. Joffre orders shell economies, reduces daily issue to 3 rounds per gun.
Aisne: BEF's first 6-inch howitzers (4 batteries) come into action.
Argonne: Lieutenant Rommel wounded near Varennes.
Belgium: Joffre requests a 3rd Belgian Army sortie.
Eastern Front
Galicia: First Siege of Przemysl begins (until October 9). Ivanov begins secretly withdrawing 3 armies (30 divisions) from west of river San to east of river Vistula for offensive from Poland (until October 11).
Southern Fronts
Serbia: Nearly 30,000 Austrian casualties since September 8; one single Serbian division has 6,000 casualties.
Far East
German New Guinea: c. 200 Australians occupy town Friedrich Wilhelm (Madang) on mainland.
African Fronts
East Africa: 50 Germans in canoes seize Belgian island on Lake Kivu.
South Africa: ­2,500 South Africans reach Raman's Drift.