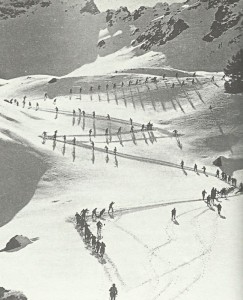 Diary for Friday, December 10, 1915:
Southern Fronts
Italian Front: Italians capture positions above Bezzecca basin (Carnic Alps). At Pless Conrad first proposes to Falkenhayn joint Trentino offensive to knock Italy out in spring 1916 with 16 divisions.
Western Front
Flanders: German artillery fire 3,000 shells on Ypres Salient.
Middle East
Mesopotamia: General Aylmer (VC) signals Townshend that relief force is forming.
Sea War
Adriatic: 6 French destroy­ers and 2 submarines arrive at Brindisi after Italian appeals for aid to Serbs. Admiral Dartige meets Abruzzi at Taranto on December 13.
Black Sea: Russian destroyers sink 2 Turk gunboats off Kirpen Islands.
Home Fronts
Turkey: Direct rail link with Central Powers restored, helps food supplies.