British first true single-seat fighting scout Airco de Havilland 2.
History, development, service, specifications, statistics, pictures, and model.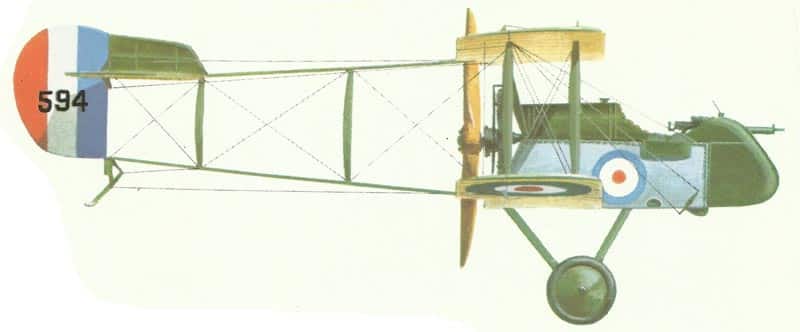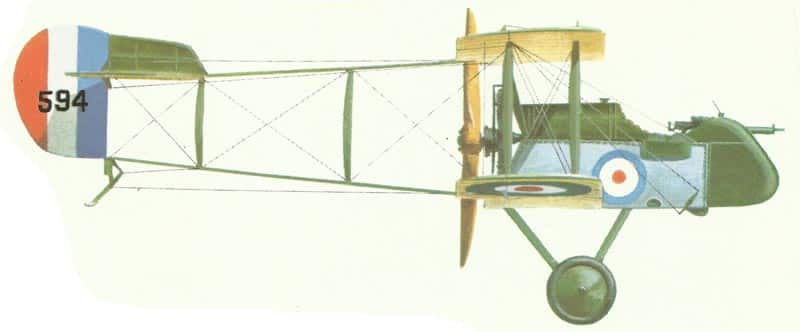 Airco DH2
Type: single-seat fighting scout.
History:
Now generally recognized as the RFC's first true fighter, the Airco D.H.2 reached France early in 1916. By that time the Fokker E monoplane had gained ascendancy over the Western Front on account of its forward-firing machine-gun, to which the RFC had no effective reply as no British interrupter gear had been developed to allow a gun to fire through the propeller disc.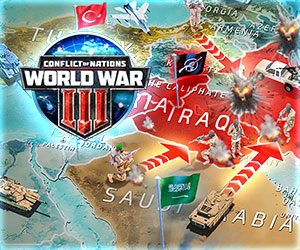 Instead, the DH2, first flown in July 1915, perpetuated the DH1's pusher engine layout in which the pilot was seated in the extreme nose. In the new airplane he was expected not only to fly the aircraft but also to manhandle his single drum-fed Lewis gun from mounting to mounting, one of which was located on each side of his cock­pit. In due course RFC pilots learned to use the Lewis gun as a fixed weapon, aiming the whole aircraft at its target.
Of orthodox fabric-covered wooden construction, the little DH2 possessed an all-up weight of no more than 702 kg (l,547Ib) with a Le Rhone engine, the entire tail unit being carried on four struts attached to the wings. Most ser­vice aircraft were powered by the 110­hp (82-kW) Gnome rotary driving a two-blade propeller.
First RFC squadron to take its DH2s to France was No. 24 Squadron (com­manded by Major Lanoe G. Hawker, VC, DSO), which arrived at St Omer with 12 airplanes on 7 February 1916. In the next three months Nos 29 and 32 Squadrons followed and these three units participated in the bloody Battle of the Somme, constantly engaging the German Fokker E III monoplanes on fairly equal terms, In due course the type also served with Nos 5, 14, 17, 41, 47 and 111 Squadrons of the Royal Flying Corps, and two aircraft flew with home defense squadrons: one, flown by Captain (later Air Marshal Sir Richard) Saundby of the Orfordness Ex­perimental Station, attacked the Ger­man airship L 48 on 17 June 1917.
By early 1917 the D.H2 was outclassed in France, however, and was withdrawn for service with Nos 17 and 111 Squad­rons in Palestine, and with No. 47 Squadron in Macedonia.
In the course of 774 combats by DH2s in France, No. 24 Squadron pilots destroyed 44 enemy aircraft. In another fight the commander of No. 32 Squadron, Major (later Group Captain) LWB Rees, won the Victoria Cross for his single-handed attack on a formation of 10 German aircraft on 1 July 1916.
On 28 October that year the great German fighter pilot, Oswald Boelcke, lost his life when his Albatros collided with another German aircraft during combat with DH2s of No. 24 Squadron. A few weeks later, in one of the war's longest air combats, the supreme fighter pilot, Manfred Freiherr von Richthofen, fought and eventually killed Major Lanoe Hawker, No. 24 Squadron's gallant commander.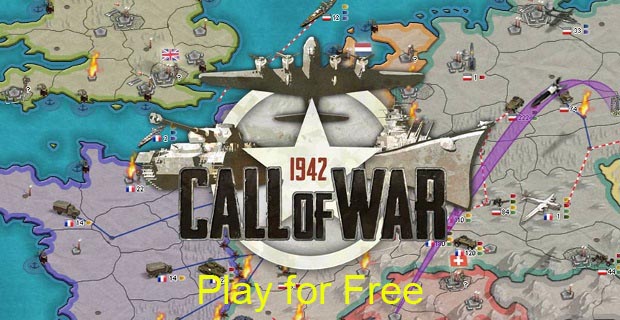 Users: Britain.
---
Specifications Airco D.H.2
Specifications:

Airco D.H.2
Specification
Type
single-seat fighting scout
Accommodation
1
Powerplant
1 x 110-hp (82-kW) Gnome Monosoupape 9-cylinder rotary piston engine
Span
28 ft 3 in (8.61 m)
Length
25 ft 2.5 in (7.68 m)
Height
9 ft 6.5 in (2.91 m)
Wing area
249.0 sq.ft (23.13 m²)
Weight empty
943 lb (428 kg)
Weight maximum take-off
1,441 lb (654 kg)
Maximum speed
93 mph (150 km/hr) at sea level
Climbing
12 minutes to 6,500 ft (1,980 m)
Service ceiling
14,000 ft (4,265 m)
Endurance, "2 hrs 45 min"
Armament
1 x 7.7-mm(03.03-in) Lewis machine-gun left or right from cockpit in front direction (5 x 97-round drums in cockpit)
First flight
Spring 1915 (prototype)
Service delivery
July 1915
Production
450
---
References and literature
Jane's Fighting Aircraft of World War I
Aircraft of World War I 1914-1918 (Jack Herris, Bob Pearson)
Technik und Einsatz der Kampfflugzeuge vom 1. Weltkrieg bis heute (Ian Parsons)
Fighters, Attack and Training Aircraft 1914-1919 (Kenneth Munson)
Bombers, Patrol and Reconnaissance Aircraft 1914-1919 (Kenneth Munson)
Das große Buch der Luftkämpfe (Ian Parsons)
Technik und Einsatz der Kampfflugzeuge vom 1. Weltkrieg bis heute (Ian Parsons)
The Illustrated Encyclopedia of Weapons of World War I (Chris Bishop)
An Illustrated History of the Weapons of World War One (Ian Westwell)
---