German Schnellboot (S-boat), called by the Allies E-boat ('enemy boat').
History, development, service, specifications, pictures and 3D model.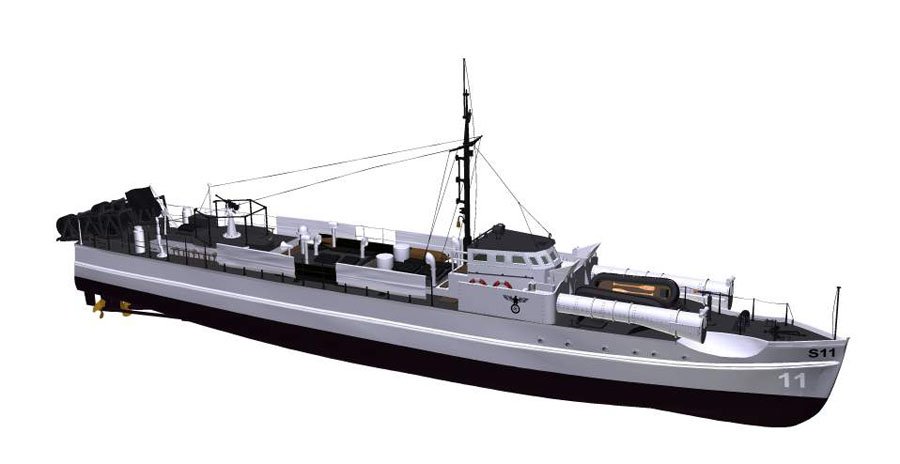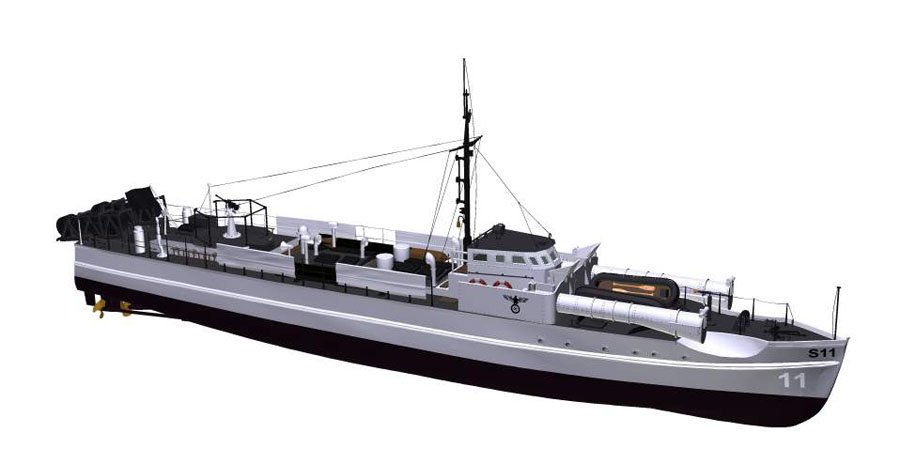 E-Boat (German 'Schnellboot' or 'S-boat')
Type: Motor torpedo boat (MTB)
History:
Identified by the British for some ill described purpose as an E-boat ('Enemy boat'), the German Schnellboot, or S-Boot, differed significantly from the Royal Navy counterparts. Through the roots in a Lurssen civil type of the early 1930s, the S-boat was built of wood upon metal frames and received a round-bulged hull form that, although acquiring a lower maximum speed compared to the hard-handed British counterparts, had been greatly far more sea kindly. In the case, the S-boat could preserve its highest speed in sea states which pushed the British to throttle back to prevent extreme pounding.
Diesel-powered drive had been given from the beginning, although the prototype S1 of 1930 and the follow-on S2-S5 of 1931-32 were forced to take petrol machines while Daimler- Benz and MAN designed a appropriate device. Just with the S56-73 of 1934-35 did the three-shaft diesel design become established. These types of craft had been 32.4 m (106.3ft) long and run for 35 kts. This speed had been regarded as not enough, so within the next class the seven-cylinder diesels were replaced for 11-cylinder devices, increasing speed however requiring a rise in size to 34.7m (113.8ft), which continued to be amazingly persistent until 1945, in large difference to the selection of motorboats with the British flag.
Due to their bigger size the S-boats took their 2 torpedo tubes forward from the wheelhouse, providing room for 2 skid-mounted reloads abaft them. It had been then a minor design move from S26 onward to increase the forecastle by 1 m (3.28 ft), therefore enclosing the tubes and leaving a front gun-pit between them and, significantly, increasing the free board to obtain the craft a desirable dryness.
Always less noisy than British counterparts, the S-boats also were built with a profile which was difficult to spot without radar. Gun armament had constantly to be improved to check those of their enemies, the additional weight becoming balanced out to a large degree by enhanced weight saving methods of hull development and machines of greater power. Protection was improved through the use of the armored 'Kalotte' kind bridge. By 1945 speeds had been pressed (through highly unstable machines) to a maximum 42 kts and, whilst no longer, the S700 type released 2 additional, aft-facing torpedo tubes.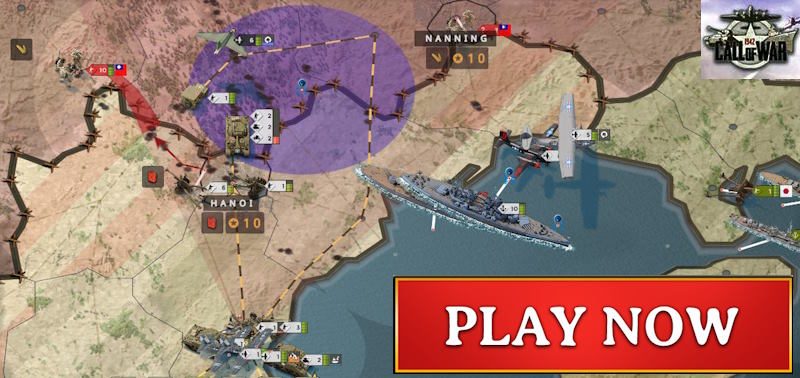 Over 200 S-boats had been built, of which about 50 % made it to the end of WW2.
Users: Germany (Navy), Spain (total of 5 boats in 1943).
---
Animated 3D model of E-boat
---
Specifications for E-Boat S26
Specifications:

| E-Boat S26 | specification |
| --- | --- |
| Type | Motor torpedo boat (MTB) |
| Displacement | 93 tons |
| Displacement (full loaded) | 115 tons |
| Length | 114.67 ft |
| Beam | 16.73 ft |
| Draught | 4.6 ft |
| Machinery | three Daimler-Benz diesels delivering 6,000hp to three shafts |
| Power | 6,000 hp |
| Oil | 17 tons |
| Speed | 39.5 kts |
| Range | 750 nm (864 miles) at 35 kts |
| Crew | 21 |
Armament:

| E-Boat S26 | specification |
| --- | --- |
| Main Armament | 2x 20-mm-cannons |
| Torpedo tubes | 2 (with 4 torpedoes) |
| Anti-Submarine | 2 x depth-charge racks (total 8 depth-charges) |
Service Statistics:

| E-Boats | figures |
| --- | --- |
| Build time S1 class | 1929-30 |
| Build time S18 class | 1938-39 |
| Buold time S38 class | 1942-43 |
| Build time | S186 class 1944-45 |
| Total | over 200 built |
| Remaining | about half survived |