German heavy battle tank Panzer VI Ausf B Tiger II (Part II)
Production, service, specifications, statistics and 3D model.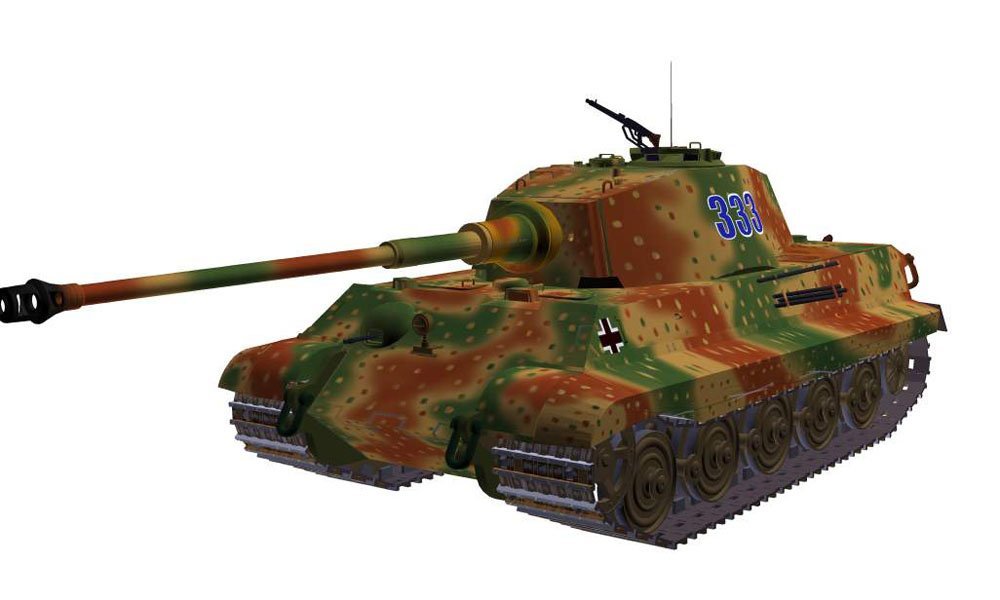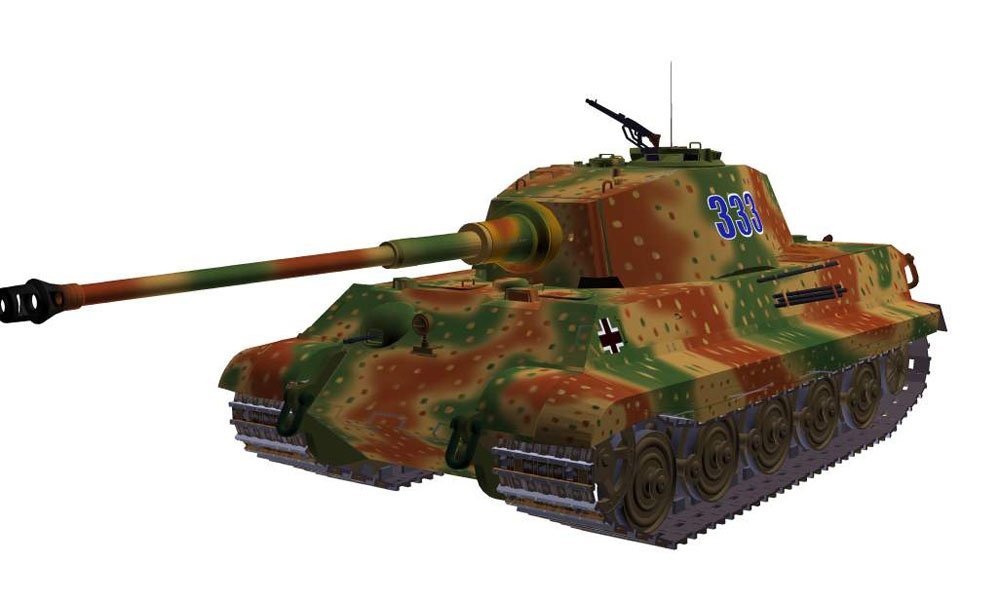 to Part I of King tiger tank
Production
Manufacturing of the Tiger II, or Panzerkampfwagen VI Tiger II Ausf B (SdKfz 182) to provide its proper name, got under way at Kassel in December 1943 alongside the Tiger tank, the initial 50 production vehicles being finished with the Porsche turret. All following vehicles had the Henschel turret, and a total of 485 vehicles were produced.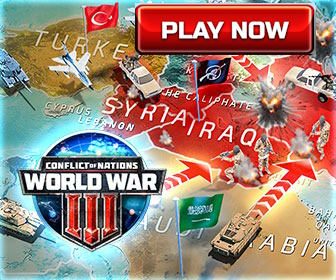 When the production ran at full-scale, it took no more than 14 days to complete a Tiger II and at Henschel usually always 60 tanks were on the assembly line. In total, only 485 vehicles were completed by March 1945 and over 600 tanks which could have been produced were lost as the result of Allied air raids on the manufacturing plants.
Service
The first King Tigers were issued to training units in February 1944. The Tiger II first saw action on the Eastern Front in May 1944 and on the Western Front in Normandy in August of the same year.
Apart from 5 tanks issued to the Feldherrnhalle division in March 1945, all King Tiger were issued to independent heavy tank detachments of Wehrmacht and Waffen-SS. The King Tiger eliminated the Allied tanks with ease, in the East and West.
The King Tiger was delivered in the fall of 1944 in small groups of four to five vehicles to front units – as well as the Tiger I. The Tiger II destroyed his opponents with ease on the Eastern and Western fronts.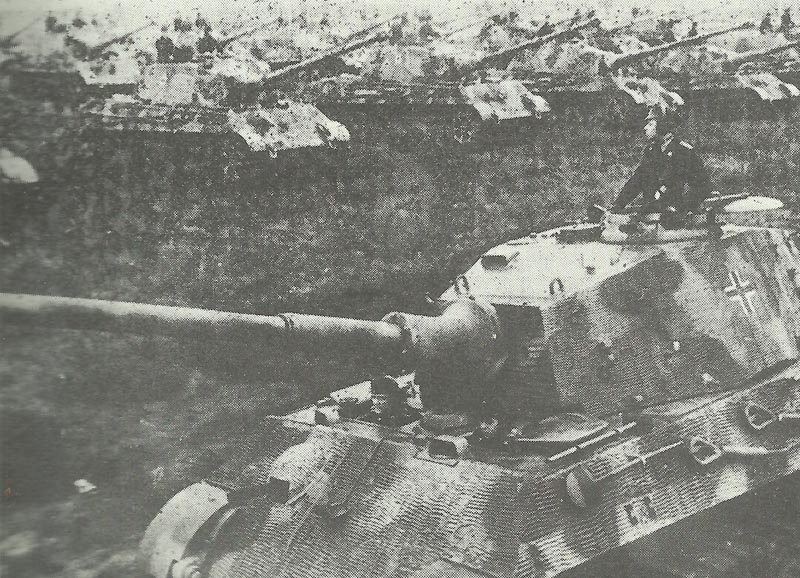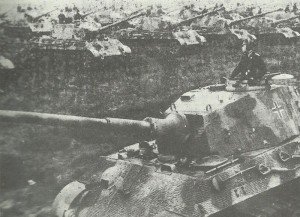 While the armor protection of King Tiger offered to be virtually safe against all Allied tank guns, it was technically vulnerable and only cumbersome to move around the battlefield and to hide. Many were abandoned by their crews, as they had run out of fuel and no additional replenishment could approach.
In a quick combat action with forced withdrawal, which often happened on the Eastern Front in the last year of the war, many King Tigers were abandoned by their crews.
But if the King Tiger was used considering it was a very effective vehicle and was able to destroy many numerous opponents or keep them under control, without endangering themselves.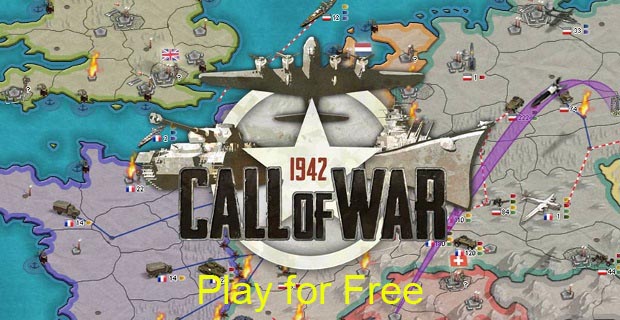 The Western Allies calling the tank the 'Royal Tiger' or 'King Tiger', while the Germans called it the Königstiger (King Tiger).

Here to Part III: Tiger II: Firepower, Protection, Mobility.
---
Animated 3D model King Tiger tank (Henschel)
---
Specifications King Tiger
Specifications:

| Panzerkampfwagen VI Ausf. B (SdKfz 182) King Tiger | Specification |
| --- | --- |
| Type | heavy tank |
| Engine | Maybach HL230P30 12-cylinder petrol engine developing 700 hp (522 kW) |
| Gearbox | 8 forward, 4 reverse |
| Crew total | 5 |
| Turret crew | 3 (with 360° Commanders cupola) |
| Length | 10.26m (33ft 8in) with gun; 7.26m (23ft 9.75in) hull |
| Width | 3.75m (12ft 3.5in) |
| Height | 3.09m (10ft 1.5in) |
| Weight | 68 tons |
| Maximum speed | 24 mph |
| Cross-country speed | 10 mph |
| Fuel consumption per 100 miles | road 680 litres; terrain 1,000 litres |
| Fuel | 860 litres in 7 tanks |
| Road radius | 72 miles |
| Cross-country radius | 48 miles |
| Vertical obstacle | 2.78ft |
| Trench crossing | 8.2ft |
| Fording depth | 5.25ft |
| Turning circle | 16.4ft |
| Gradient | 35° |
Armor:

| Panzerkampfwagen VI Ausf. B (SdKfz 182) King Tiger | mm | angle |
| --- | --- | --- |
| Turret front | 180 | 9° |
| Turret side | 80 | 21° |
| Turret rear | 80 | 21° |
| Turret top | 40 | 78-90° |
| Porsche turret front | 60-110 | round |
| Porsche turret side | 80 | 30° |
| Porsche turret rear | 80 | 30° |
| Porsche turret top | 40 | 77-90° |
| Superstructure front | 150 | 50° |
| Superstructure side | 80 | 25° |
| Superstructure top | 40 | 90° |
| Hull front | 100 | 50° |
| Hull side | 80 | 0° |
| Hull rear | 80 | 30° |
| Hull bottom | 25-40 | 90° |
| Gun mantlet | 100-110 | Saukopfblende |
Armament and Equipment:

| Panzerkampfwagen VI Ausf. B (SdKfz 182) King Tiger | specification |
| --- | --- |
| Main armament | 8.8cm KwK43 L/71 |
| Rounds | 72 |
| Traverse | 360° (hydraulic) |
| Elevation | -7.4° to +15° |
| Muzzle velocity Pzgr39-1 | 1,000 m/s |
| Muzzle velocity Pzgr40/43 | 1,130 m/s |
| Shell weight Pzgr39-1 | 10.2 kg |
| Shell weight Pzgr40/43 | 7.3 kg |
| Extreme effective range | ? |
| Secondary armament | 2 x 7.92mm MG 34 with total 5850 rounds |
| Radio | FuG5 (range 4 km) |
| Telescopic sight | TZF9b, later TZF9d (range up to 5.000 m) |
Penetration mm at 30° armor plates of the main gun:

| Range | Pzgr39-1 | Pzgr40/43 |
| --- | --- | --- |
| Penetration 100 m | 203 mm | 237 mm |
| Penetration 500 m | 185 mm | 217 mm |
| Penetration 1,000 m | 165 mm | 193 mm |
| Penetration 1,500 m | 148 mm | 171 mm |
| Penetration 2,000 m | 132 mm | 153 mm |
Production:

| Panzerkampfwagen VI Ausf. B (SdKfz 182) King Tiger | figures |
| --- | --- |
| Production | from January 1944 to March 1945 |
| Combat delivery | May 1944 |
| Price per unit | RM 321,500 = c.$ 145,000 |
| Total production figure | 489 |
Service statistics of all King Tiger tanks:

| Year | Available | Production | Losses |
| --- | --- | --- | --- |
| pre-1939 | - | - | - |
| 1939 | - | - | - |
| 1940 | - | - | - |
| 1941 | - | - | - |
| 1942 | - | - | - |
| 1943 | - | 1 | - |
| 1944 | - | 376 | 51 |
| 1945 | 183 | 82 (Jan-Feb) | 6 (Jan) |
| TOTAL | - | 459 | 57 |
---
Animated 3D model King Tiger tank (Porsche turret)
---

to Part I of King tiger tank
References and literature
Kraftfahrzeuge und Panzer der Reichswehr, Wehrmacht und Bundeswehr (Werner Oswald)
Encyclopedia of German Tanks of World War Two (P.Chamberlain, H.L.Doyle)
Panzer und andere Kampffahrzeuge von 1916 bis heute (Christopher F. Foss, John F. Milsom, Colonel John Stafford Weeks, Captain Georffrey Tillotson, Richard M. Ogorkiewicz)
Panzerkampfwagen des 1. und 2. Weltkrieges (Andrew Kershaw)
Krieg der Panzer (Piekalkiewicz)
The Encyclopedia of Weapons of World War II (Chris Bishop)
Tigers in Combat I + II (W. Schneider)
Sledgehammers: Strength and Flaws of Tiger Tank Batailions in WWII (C.W.Wilbeck)
Tiger tanks (Michael Green)
Der Panzer-Kampfwagen Tiger und seine Abarten (Walter J. Spielberger, Hilary L. Doyle)
---