British Infantry Tank Mk II (A12) Matilda from the Second World War.
History, development, service, specifications, pictures and 3D model.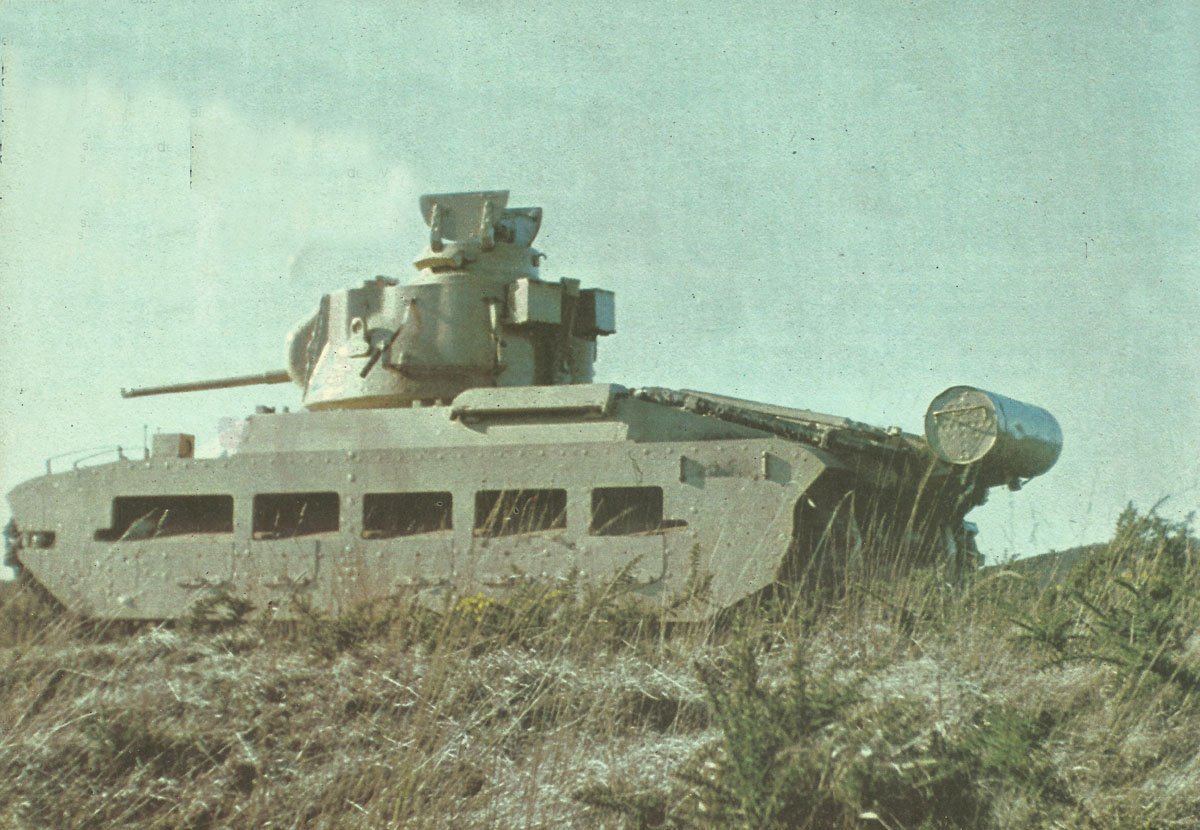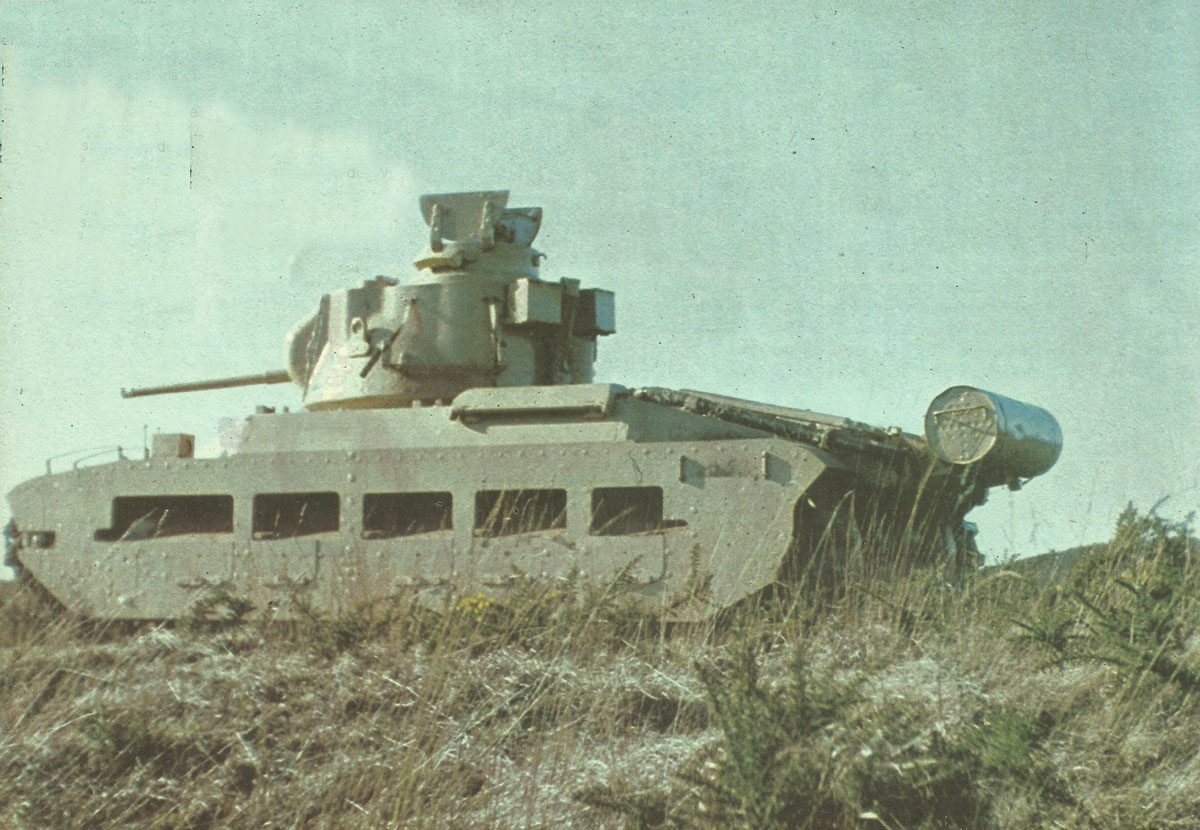 Matilda II
Type: Infantry Tank Mk II (A12)
History: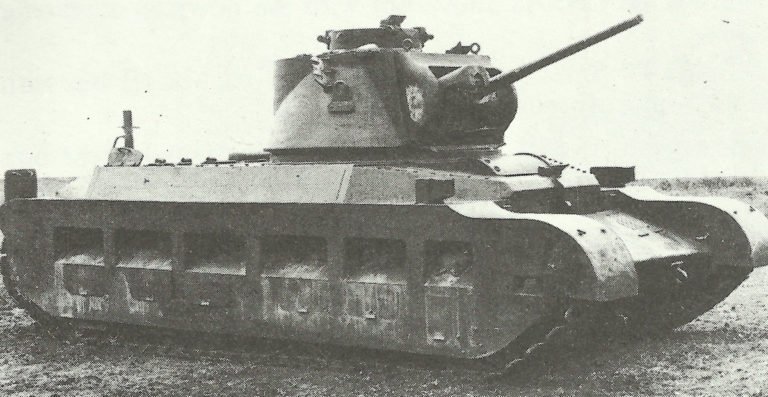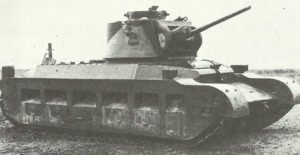 At the time the Infantry Tank Mk I pilot model – A11E1 – was delivered, the Mechanization Board was already considering a 'scaled up' version with an extra crew member, a 2pdr gun or twin machine guns, and a speed of up to 15mph (ca. 24 km/h). Weight limit of 14 (long) tons was imposed to meet current military bridging restrictions.
It soon became obvious that these requirements could not be incorporated in the basic A11 design since the turret alone, to hold a 2pdr gun, would bring the A11 weight up to 13 tons, and a new engine would also be required. Thus, a completely new design was called for and was drawn up by the Mechanization Board on the basis of 60 mm armor thickness, a commercial type AEC diesel engine, and heavy side skirts to protect the 'Japanese Type' suspension derived from that on the Vickers Medium Tank. The layout of the 'Matilda Senior' as it was called, designated A12 Infantry Tank Mk II, was based closely on that of the A7 medium tank which had been designed and built in prototype form only by Royal Ordnance Factory, Woolwich, in 1929-32.
In November 1936 Vulcan Foundry of Warrington were given contracts to produce wooden mock-ups and two mild steel pilot models of the A12 design. The mock-up was inspected in April 1937, by which time it had been decided to use twin AEC diesel engines coupled together and a Wilson epicycles gearbox. Provision was to be made for mounting a 3in howitzer in close support models and various other detail points were settled at this early stage. Construction of the pilot model was, however, held up by delays in the delivery of the gearbox and other components and the A12E1 pilot was not ready until April 1938. Meanwhile, an order 'off the drawing board' for 65 vehicles was given in December 1937, soon increased to 165. Trials were generally satisfactory, but some small modifications were made to the gearbox and suspension. Cooling was also improved and provision made for 'colonial' use by fitting air cleaners.
By this time re-armament was under way and the need for tanks was urgent. In June 1938 contracts for further vehicles were placed with Fowler and Ruston&Hornsby under Vulcan's 'parentage', and subsequently LMS, Harland&Wolff, and North British Locomotive all received contracts. For the later marks Leyland were brought in (in 1940) to make engines. Total output of A12s was 2,987 and production ceased in August 1943.
The A12 did not lend itself to easy mass-production, however, due to the size and shape of the armor castings used in the design. There was particular difficulty in making the one-piece arm our side skirts and the number of mud chutes was reduced from six (in the pilot model) to five (in production models) to facilitate producing this component.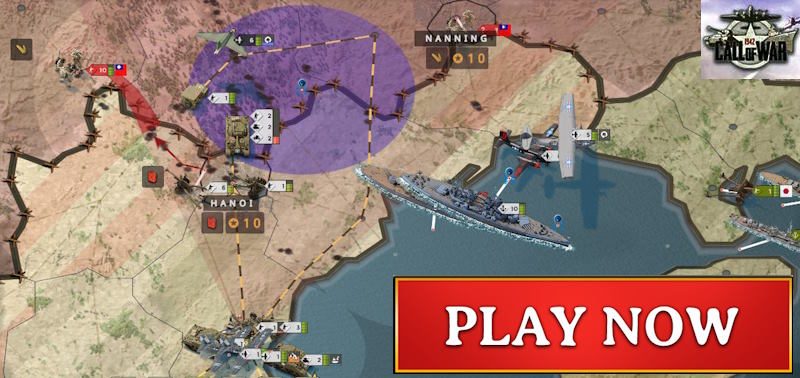 By the outbreak of war with Germany in September 1939 there were only two A12s in service, though a number had been issued to 7th Royal Tank Regiment in France by early 1940 where they were used with success in the Battle of Arras just prior to the Dunkirk evacuation.
With withdrawal of the A11, Matilda I, the terms 'Matilda Senior' and 'Matilda II' were dropped as descriptions of the A12, and it was known simply as the Matilda.
The Matilda is best remembered for its important part in the early Western Desert campaigns. In Libya in 1940 it was virtually immune to any Italian anti-tank gun or tank, and Matildas reigned supreme until the appearance of the German 88mm Flak gun in the anti-tank role in mid-1941, the first gun able to penetrate Matilda's heavy armor at long-range.
It was not possible to fit the 6pdr gun in the Matilda (though an attempt was made to mount the A27 type turret on a Matilda chassis), due to the small size of the turret and turret ring. Thus, in 1942, the Matilda declined in importance as a gun tank and was last used in action in this role at the first Alamein battle in July 1942.
From then on, the Matilda was used in secondary roles for special purposes. But Matilda gun tanks were also used in the Eritrea campaign and later by the Australian Army in New Guinea. Some were still used by Australian reserve units in post-war years.
Many were delivered to Russia as Lend-Lease tanks where they were used in their original role, as infantry tanks.
Users: UK, Australia, Russia.
---
Animated 3D model Matilda II
---
Specifications for Matilda II (Infantry tank Mk II, A12)
Specifications:

| Matilda II (Infantry tank Mk II, A12) | Specification |
| --- | --- |
| Type | Infantry Tank |
| Engine | Mks I-II Twin AEC diesels, 87hp each (Mk III Twin Leyland 6 cylinder, 95hp each) |
| Gearbox | Wilson epicyclic |
| Crew total | 4 |
| Turret crew | 3 |
| Length | 18ft 5in (5.61m) |
| Width | 8ft 6in (2.59m) |
| Height | 8ft 3in (2.51m) |
| Weight | 59,360lb (26,926 kg) |
| Maximum speed | 15mph (24 km/h) |
| Cross-country speed | 12.8 km/h |
| Petrol consumption per 100km | ? |
| Petrol | ? |
| Road radius | 160 miles (256 km) |
| Cross-country radius | ? |
| Vertical obstacle | 2ft (0.61m) |
| Trench crossing | 7ft (2.13m) |
| Fording depth | 3ft (0.91m) |
| Turning circle | ? |
| Gradient | ? |
Armor:

| Matilda II (Infantry tank Mk II, A12) | mm | angle |
| --- | --- | --- |
| Turret front | 75 mm | ? |
| Turret side | 75 mm | ? |
| Turret rear | ? | ? |
| Turret top | 20 mm | ? |
| Superstructure front | 78 mm | ? |
| Superstructure side | 40-70 mm | ? |
| Superstructure rear | 55 mm | ? |
| Superstructure top | 20 mm | ? |
| Hull front | 47 mm | ? |
| Hull side | 40-70 mm + 25 mm side skirts | ? |
| Hull rear | 55 mm | ? |
| Hull bottom | 13-20 mm | ? |
| Gun mantlet | ? | ? |
Armament and Equipment:

| Matilda II (Infantry tank Mk II, A12) | Specification |
| --- | --- |
| Main armament | 2pdr QQF (important note: this gun was not able to fire high-explosive shells) |
| Rounds | 93 |
| Traverse | 360° |
| Elevation | ? |
| Muzzle velocity | 2,800fps |
| Shell weight | 2lb 6oz |
| Secondary armament | 1 x 7.92mm cal Besa MG (Vickers MG in Mk I) |
| Radio | ? |
| Telescopic sight | ? |
Penetration mm at 30° armor plates of the gun:

| Range | Penetration |
| --- | --- |
| Penetration 100 yards | ? |
| Penetration 500 yards | 57mm |
| Penetration 1,000 yards | 40mm |
| Penetration 1,500 yards | - |
| Penetration 2,000 yards | - |
Production:

| Matilda II | figures |
| --- | --- |
| Production | 1939-August 1943 |
| Combat delivery | spring 1940 in France |
| Price per tank | not known, but too hight because not lend to easy mass-production |
| Total production figure | 2,987 (of which 1,084 were delivered to Russia) |
Service statistics of Matilda II:

| Year | Available | Production | Losses |
| --- | --- | --- | --- |
| before 1939 | - | - | - |
| 1939 | 2 (Sep) | ? | - |
| 1940 | ? | ? | ? |
| 1941 | ? | ? | ? |
| 1942 | 4 (30 June); 24 (25 July) with 8th Army ? | ? | |
| 1943 | ? | 2,987 (1939-43) | ? |
| 1944 | - | - | - |
| 1945 | - | - | - |
| Total | - | 2,987 "?" | |
---
References and literature
British and American Tanks of World War II (Peter Chamberlain, Chris Ellis)
Panzer und andere Kampffahrzeuge von 1916 bis heute (Christopher F. Foss, John F. Milsom, Colonel John Stafford Weeks, Captain Georffrey Tillotson, Richard M. Ogorkiewicz)
Panzerkampfwagen des 1. und 2. Weltkrieges (Andrew Kershaw)
Krieg der Panzer (Piekalkiewicz)
The Encyclopedia of Weapons of World War II (Chris Bishop)
---