German medium tank PzKpfw IV Ausf G.
History, development, service, specifications, pictures and 3D model of the mid-war Panzer IV G version.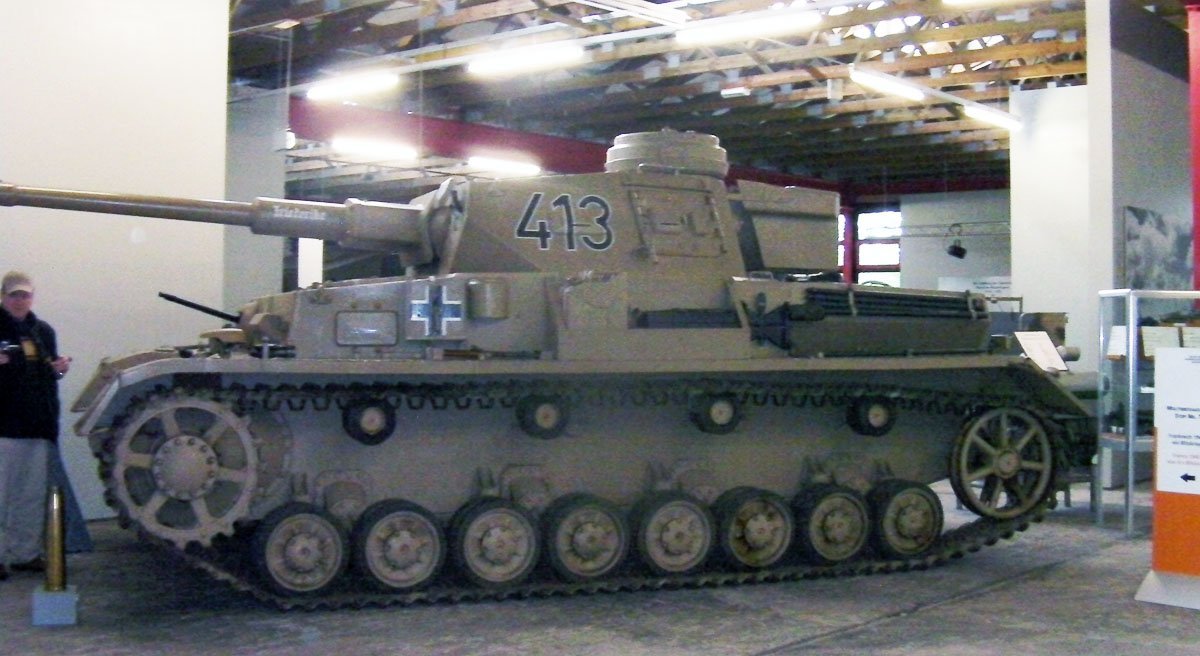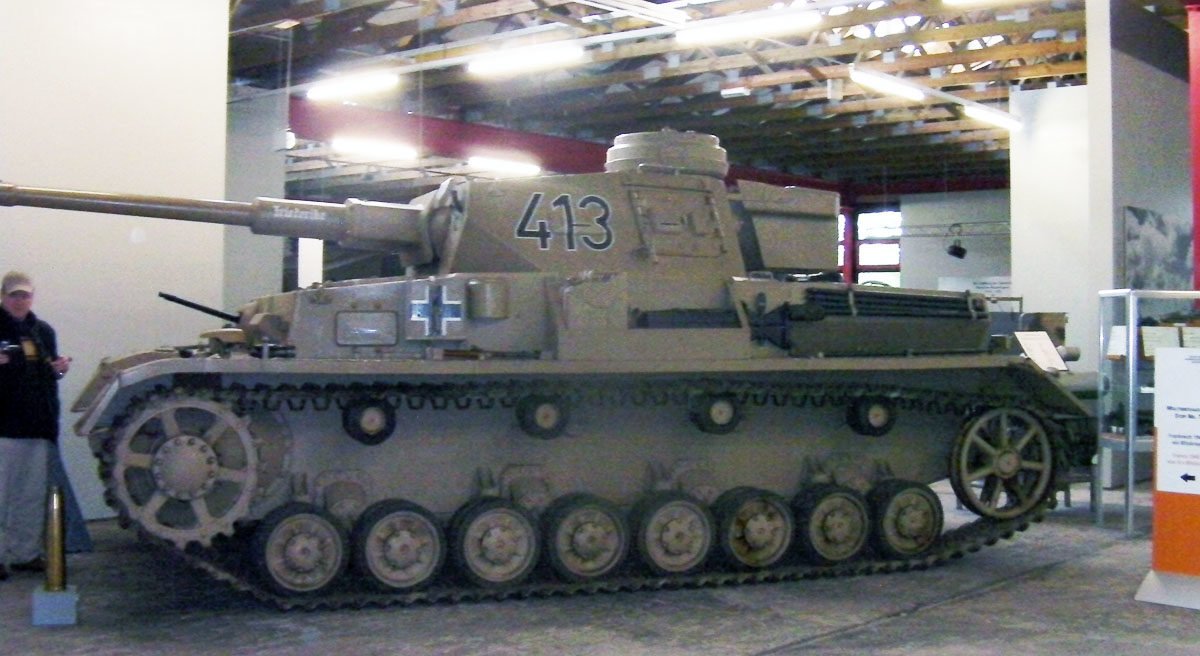 PzKpfw IV Ausf G (SdKfz 161/1 and SdKfz 161/2)
Type: German medium tank
History
The 1,750 PzKpfw IV Ausf G were acquired by ten separate orders, issued to Krupp-Gruson, Vomag and Nibelungenwerke. Of this number, only 1,687 were completed as PzKpfw. The remainders were used as prototypes for the Hummel (bumble-bee) 10 chassis and the Brummbär (grizzly bear) 53 chassis.
From late March 1943, the 7.5cm KwK40 L/48 (SdKfz 161/2) was installed instead of the L/43, with a total of 1,275 Ausf G receiving the L/43. Delivery of Ausf G, with additional armor bolted or welded to the front of the hull and superstructure, began on 20 June 1942. Starting at 16 per month from July to November 1942, half of the Ausf G production were to be fitted with additional armor, from December 1942, resulting in approximately 700 Ausf G having the extra protection.
At the start of the summer offensive in Russia, late in June 1942, approximately 170 Ausf F2 and G were with units at the front. This number had increased to 841 PzKpfw IV (long) with Army Groups Center and South, at the start of the Kursk offensive. In 1943, the PzKpfw IV were extended from medium companies to every company in each detachment of Panzer regiments, each company having twenty-two PzKpfw IV.
Users: Germany, Bulgaria, Croatia, Finland, Italy, Spain, Romania, Turkey, Hungary (for all variants).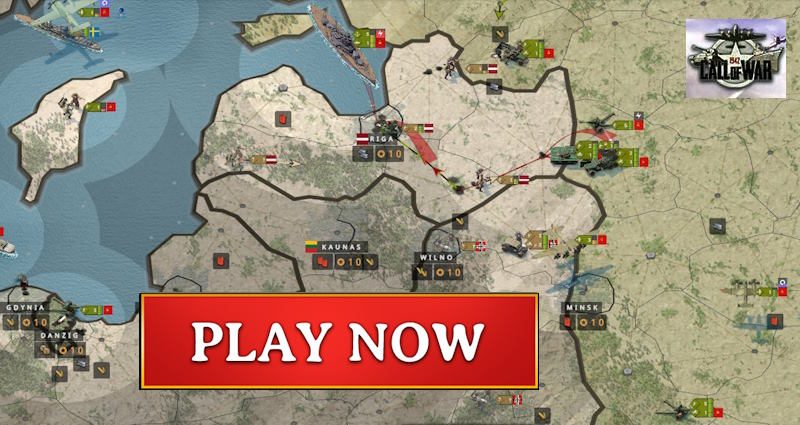 ---
Pictures about Panzer IV Ausf G
---
Animated 3D model of Panzer IV G
---
Specifications for Panzer IV Ausf G
Specifications:

| Panzer IV Ausf G | specification |
| --- | --- |
| Type | medium tank |
| Engine | Maybach HL120TRM with 300 hp at 3,000 rpm |
| Gearbox | 6 forward, 1 reverse |
| Crew total | 5 |
| Turret crew | 3 (with 360° Commanders cupola) |
| Length | 6.62 m |
| Width | 2.88 m |
| Height | 2.68 m |
| Weight | 23.5 tons |
| Maximum speed | 40 km/h (24.9 mph) |
| Cross-country speed | 20 km/h (12.4 mph) |
| Fuel consumption per 100 km | 240 litres on road, 360 litres cross-country |
| Fuel | 470 litres |
| Road radius | 190 km (118 miles) |
| Cross-country radius | 130 km (81 miles) |
| Vertical obstacle | 0.60 m |
| Trench crossing | 2.30 m |
| Fording depth | 0.80 m |
| Turning circle | 6 m |
| Gradient | 30 ° |
Armor:

| Panzer IV Ausf G | mm | angle |
| --- | --- | --- |
| Turret front | 50 | 11 ° |
| Turret side | 30 | 26 ° |
| Turret rear | 30 | 10 ° |
| Turret top | 10 | 83-90 ° |
| Superstructure front | 80 | 10 ° |
| Superstructure side | 30 | 0 ° |
| Superstructure rear | 20 | 11 ° |
| Superstructure top | 12 | 85-90 ° |
| Hull front | 80 | 12 ° |
| Hull side | 30 | 0 ° |
| Hull rear | 20 | 9 ° |
| Hull bottom | 10 | 90 ° |
| Gun mantle | 50 | 0-30 ° |
Armament and Equipment:

| Panzer IV Ausf G | data |
| --- | --- |
| Main armament | 7.5cm KwK40 L/43 |
| Rounds | 87 |
| Traverse | 360° (electric) |
| Elevation | -8° to +20° |
| Muzzle velocity Pzgr | 740 m/s |
| Muzzle velocity Pzgr40 (available only in limited numbers) | 920 m/s |
| Shell weight Pzgr | 6.8 kg |
| Shell weight Pzgr40 | 4.1 kg |
| Secondary armament | one 7.92mm MG 34 coaxial to gun; one 7.92mm MG 34 in front hull; together 3,000 rounds |
| Radio | FuG5 (4 km range) |
| Telescopic sight | TZF5f/1 (4 km aiming) |
Penetration mm at 30° armor plates of 7.5 cm KwK40 L/43:

| Range | Pzgr | Pzgr40 (just limited numbers) |
| --- | --- | --- |
| Penetration 100 meters | 98 mm | 126 mm |
| Penetration 500 meters | 91 mm | 108 mm |
| Penetration 1000 meters | 82 mm | 87 mm |
| Penetration 1500 meters | 72 mm | 69 mm |
| Penetration 2000 meters | 63 mm | - |
Production:

| Panzer IV Ausf G | figures |
| --- | --- |
| Production | from May 1942 to June 1943 (half production with additional armour from December 1942, L/48 gun from March 1943) |
| Combat delivery | immediately after production delivery |
| Price per tank | RM 115,962 = $ 52,183 = £ 11,056 |
| Total production figure | 1,687 (412 as SdKfz 161/2 with longer L/48 gun, 700 with additional armour) |
Service statistics of all Panzer IV variants:

| Year | Available | Production | Losses |
| --- | --- | --- | --- |
| before 1939 | - | 115 | - |
| 1939 | 211 (1.9.) | 141 | ? |
| 1940 | 280 (10.5.) | 278 | ? |
| 1941 | 517 (1.6.) | 467 | 369 |
| 1942 | 513 (1.1.) | 994 | 502 |
| 1943 | 1,077 (1.1.) | 3,013 "2 | 352" |
| 1944 | 1,668 (1.1.) | 3,126 | 2,643 |
| 1945 | 1,684 (1.1) | 385 (Jan-March) | 287 (Jan.) |
| Total | - | 7,419 | 6,153 |
---
References and literature
The Encyclopedia of Weapons of World War II (Chris Bishop)
Kraftfahrzeuge und Panzer der Reichswehr, Wehrmacht und Bundeswehr (Werner Oswald)
Encyclopedia of German Tanks of World War Two (P.Chamberlain, H.L.Doyle)
Panzer und andere Kampffahrzeuge von 1916 bis heute (Christopher F. Foss, John F. Milsom, Colonel John Stafford Weeks, Captain Georffrey Tillotson, Richard M. Ogorkiewicz)
Panzerkampfwagen des 1. und 2. Weltkrieges (Andrew Kershaw)
Krieg der Panzer (Piekalkiewicz)
Fire and Movement (RAC Tank Museum)
Operation Barbarossa: the Complete Organisational and Statistical Analysis, and Military Simulation, Volume I – IIIB (Nigel Askey)
---