German self-propelled gun SdKfz 124 leFH18 on Panzer II 'Wespe' ('Wasp').
History, development, specifications, statistics, pictures and 3D model.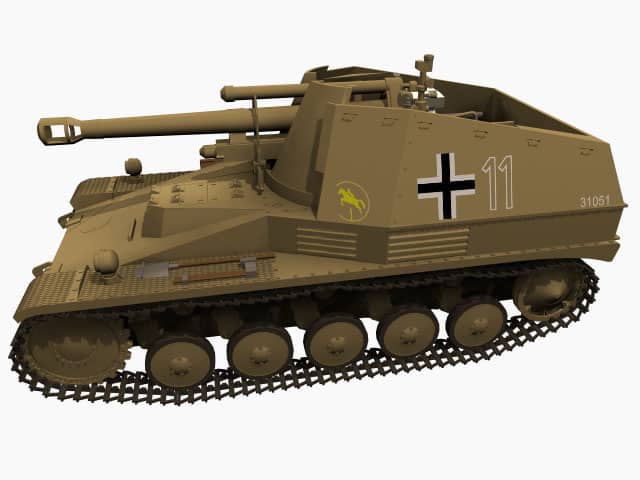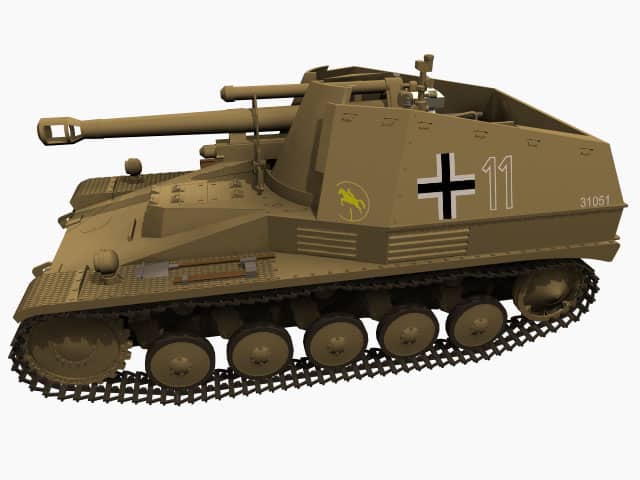 Wespe (SdKfz 124, leFH18 on Panzer II)
Type: Self-propelled light field howitzer on tracked carriage.
History:
The Wespe (Wasp) was designed by Alkett early in 1942, and was chosen as the most practical self-propelled mount for the leFH18 over the Panzer 3 and Panzer 4.
As an interim measure, the Wespe proved a great success and in February 1943, all further Panzer 2 chassis were ordered to be used for its production. The initial order for 1,000 was cut back to 835 late in 1943. This total included 159 (without leFH18/2) designated Munitions-Sf auf Fgst PzKpfw II (Ammunition-SP on chassis (of) AFV II) which carried 90 extra-rounds with a crew of three.
The Wespe was built on a modified Panzer II (PzKpfw II) chassis with the hull slightly lengthened, the engine moved forward, line glaces extended and the cooling-system louvres completely re-designed. The suspension was altered slightly by reducing the number of return rollers from four to three, and by adding spring bumper stops for the road wheels to absorb the recoil loading. The driver occupied a small compartment forward, next to the transmission, and separated from the remainder of the crew who were located in the rear fighting compartment which was built up from sloping plates. The design of the Munitions-Sf version still allowed the installation of the leFH18/2 by Field Maintenance as replacement for unserviceable Wespe.
The Wespe was issued to SP detachments of the artillery regiments in Panzer and Panzergrenadier divisions. Its first major action was at Battle of Kursk 1943 in Russia, and it saw active service in the east, west and south-west until the end of the war.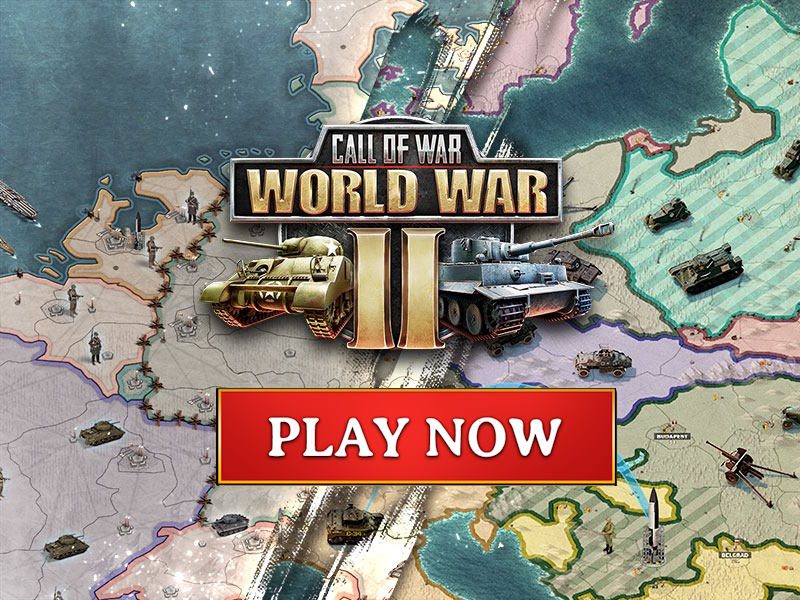 Users: Germany.
---
Specifications for SdKfz 124 Wespe (leFH 18 on PzKpfw II)
Specifications:

| SdKfz 124 Wespe | Specification |
| --- | --- |
| Type | Self-propelled light field howitzer on tracked carriage |
| Engine | Maybach HL62TRM with 140 hp |
| Gearbox | 6 forward, 1 reverse |
| Crew total | 5 |
| Turret crew | 4 |
| Length | 4.81 m |
| Width | 2.28 m |
| Height | 2.3 m |
| Weight | 11 tons |
| Maximum speed | 40 km/hr |
| Cross-country speed | 24 km/hr |
| Fuel consumption per 100km | road 120 litres, cross-country 180 litres |
| Fuel | 170 litres (in 2 tanks) |
| Road radius | 140 km |
| Cross-country radius | 90 km |
| Vertical obstacle | 0.42 m |
| Trench crossing | 1.70 m |
| Fording depth | 0.80 m |
| Turning circle | 4.80 m |
| Gradient | 30° |
Armor:

| SdKfz 124 Wespe | mm | angle |
| --- | --- | --- |
| Turret front | - | - |
| Turret side | - | - |
| Turret rear | - | - |
| Turret top | open | - |
| Superstructure front | 20 | 30° |
| Superstructure side | 15 | 0° |
| Superstructure rear | 8 | 0° |
| Superstructure top | 10 | 90° |
| Hull front | 30 | 15° |
| Hull side | 15 | 0° |
| Hull rear | 15 | 10° |
| Hull bottom | 5 | 90° |
| Gun mantlet | 10 | 16-24° |
Armament and Equipment:

| SdKfz 124 Wespe | Specification |
| --- | --- |
| Main armament | 10.5cm leFH18M L/28 |
| Rounds | 32 (ammunition carrier: 90) |
| Traverse | 17° left; 17° right |
| Elevation | -5°; +42° |
| Muzzle velocity | AP: 470 m/s; HE: 495 m/s |
| Shell weight | AP: 14.0 kg; Gr39 H1/A: 12.3 kg; Gr39 H1/B: 12.1 kg; Gr39 H1/C: 12.35 kg |
| Secondary armament | 7.92 mm MG 34 (loose) |
| Radio | ? |
| Telescopic sight | Rblf36 (range 2,000 m) |

see also: 105mm leFH 18
Penetration mm at 30° armor plates of the gun:

| Range | PzGr39 | Gr39 H1/A | Gr39 H1/B | Gr39 H1/C |
| --- | --- | --- | --- | --- |
| 100 meters | 63 mm | 80 mm | 90 mm | 100 mm |
| 500 meters | 59 mm | 80 mm | 90 mm | 100 mm |
| 1000 meters | 54 mm | 80 mm | 90 mm | 100 mm |
| 1500 meters | 50 mm | 80 mm | 90 mm | 100 mm |
| 2000 meters | 46 mm | - | - | - |
Production:

| SdKfz 124 Wespe | figures |
| --- | --- |
| Production | February 1943 - July 1944 |
| Combat delivery | instantly |
| Price per tank | ? (PzKpfw II: c. 50,000 RM) |
| Total production figure (all) | 676 + 159 ammunition carriers |
Service statistics of SdKfz 124 Wespe:

| Year | Available | Production | Losses |
| --- | --- | --- | --- |
| before 1939 | - | - | - |
| 1939 (Sep) | - | - | - |
| 1940 | - | - | - |
| 1941 | - | - | - |
| 1942 | - | - | - |
| 1943 | - | 514 | ? |
| 1944 | ? | 162 | ? |
| 1945 | ? | - | ? |
| TOTAL | - | 676 | ? |
---
Animated 3D model SdKfz 124 Wespe
---
References and literature
Kraftfahrzeuge und Panzer der Reichswehr, Wehrmacht und Bundeswehr (Werner Oswald)
Encyclopedia of German Tanks of World War Two (P.Chamberlain, H.L.Doyle)
Panzer und andere Kampffahrzeuge von 1916 bis heute (Christopher F. Foss, John F. Milsom, Colonel John Stafford Weeks, Captain Georffrey Tillotson, Richard M. Ogorkiewicz)
Panzerkampfwagen des 1. und 2. Weltkrieges (Andrew Kershaw)
Krieg der Panzer (Piekalkiewicz)
The Encyclopedia of Weapons of World War II (Chris Bishop)
---