British fighter-bomber and anti-shipping strike aircraft De Havilland Mosquito FB.
History, development, service, specifications, pictures and 3D model.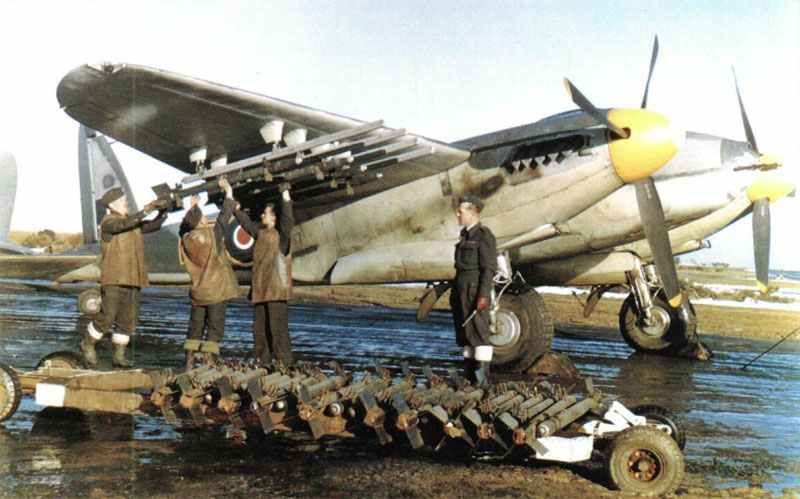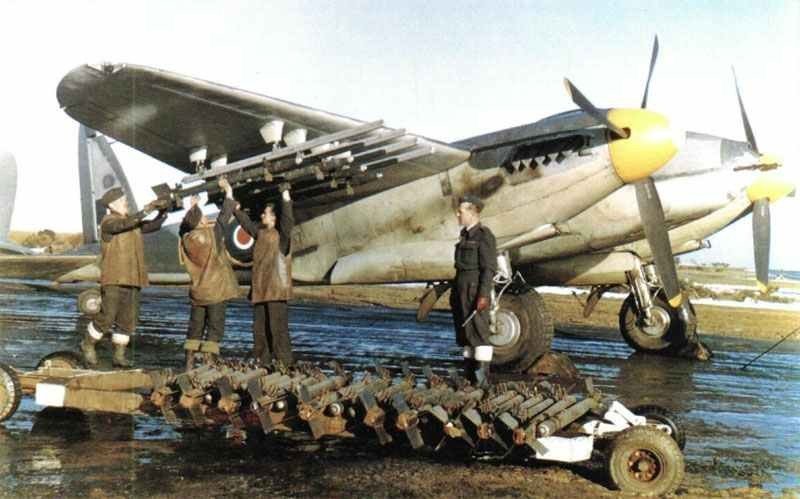 De Havilland Mosquito FB
Type: Fighter-Bomber, anti-shipping strike aircraft, night fighter.
History:
In quite similar way that the Beaufighter had been distributed into RAF Coastal Command as an anti-shipping strike fighter, hence the common de Havilland Mosquito FB performed valuable results in this function, made use of essentially with rocket projectiles as well as bombs. A torpedo-carrying model was under construction towards the end of WW2.
It had been after the Mosquito was already with success designed as a fighter-bomber perfectly bringing together the night-fighter cannon armament with the potential to transport bombs internally that the Mosquito FB VI was chosen for use with Coastal Command, tests being carried out at Boscombe Down with a plane equipped with 8 x 3-inch rocket projectiles under the wings. Alongside a nose armament of 4 x 20-mm cannon and also 4 x 0.303-in machine guns, the Mosquito FB Mk VI could also transport 2 short-finned 500-lb bombs in the back of the bomb bay. Nevertheless, after that plane were improved to transport additional a pair of 500-lb ordnance under the wings instead of the rockets.
Following the good results of the Beaufighter anti-shipping strike wings in 1943, a Mosquito Strike Wing was created at Banff in Scotland before the end of this year, No. 333 (Norwegian) Squadron becoming the first to were delivered Mosquito FB Mk VIs in November 1943, No. 248 Squadron accompanied within the next month, and No. 235 in June 1944. Used virtually primarily against enemy shipping off the Norwegian coast, the Norwegian pilots of No.333 Squadron in general flew as pathfinders for the wing, leading Mosquito formations along the winding fjords in the hunt for German ships.
Of increased attention than real operational benefit was the Mosquito FB Mk XVIII anti-shipping strike aircraft, armed with a primary 57-mm Molins gun in the nose. A modified Mosquito FB Mk VI in this way equipped had its first flight on 25 August 1943, after which 27 manufacturing planes were produced and joined service with No, 248 Squadron at Banff in January 1944.
Detachments were despatched south for patrols over the English Channel and on 25 March a Mosquito FB Mk XVIII pilot attacked and reported to have sunk a German U-boat off the French coast.
With a weight over 2,000 lb (ca. 907 kg), the Molins gun was not regarded effective as its recoil quite frequently resulted local structural damage in the Mosquito's nose.
No. 248 Squadron retained its planes until February 1945, after which the survivors were passed over to No. 254 Squadron at North Coates for the remainder of the second world war.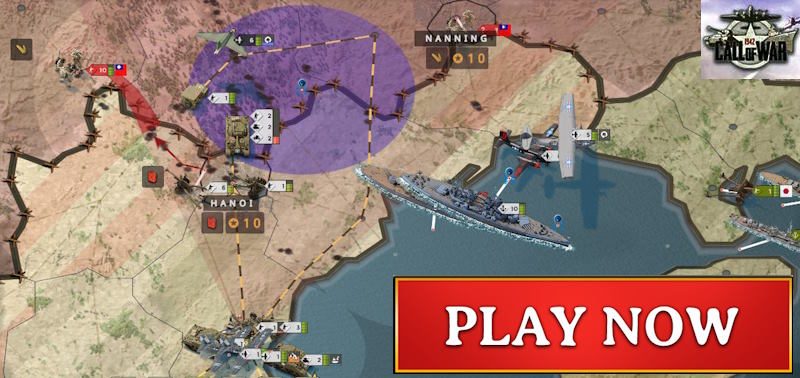 Mosquito fighter-bomber, anti-shipping strike aircraft and night fighter types
F II Night fighter : With pilot and observer side by side, flat bullet-proof windscreen, lengthened nacelles as much as all the following planes with flaps split into inner and outer segments and armament of 4 x 20 mm Hispano cannon with 300 rounds each under the floor and additionally 4 x 0.303in Brownings with 2,000 rounds each in the nose.
First flew 15 May 1941, operational service since August 1942. Afterward equipped with AI Mk IV or V radar or Turbinlight searchlight. 466 F II were build.
FB VI : Fighter-bomber and intruder by day or night. Identical guns as F II but two 250lb (ca. 113 kg) bombs in back bay and in addition 2 more afterward 2 x 500 lb (ca. 227 kg) on wing racks. In its place, 50 or 100 gal (ca. 379 l) drop tanks, mines, depth charges or 8 x 60lb (ca. 27 kg) rockets. A few equipped with AI radar.
Complete manufacturing 2,584, greater than every other version.
NF XII : Upgrade of FII night fighter equipped with new thimble nose containing AI Mk VIII centimeters radar instead of Brownings.
NF XIII : Same as Mk XII but manufactured as new, with thimble or bull nose and identical wing as Mk VI for drop tanks or other stores. Flew August 1943.
NF XV : High-altitude fighter with wings lengthened to 59ft (ca. 18 m), pressurized cockpit and lightened structure. AI Mk VIII in nose and belly pack of four 0.303in Brownings to deal with Ju 86P raiders.
NF XVII : Night fighter with new AI Mk X or SCR.720 a few with tail-looking scanner additionally. 4 x 20 mm cannon each with 500 rounds.
FB XVIII Tse-Tse Fly : This multi-role Coastal Command anti-shipping strike plane had low-blown engines and equipped with a 57 mm six-pounder Molins gun with 25 rounds and additionally 4 x Browning MGs, and moreover 8 x 60lb (ca. 27 kg) rockets or bombs. Total production 27.
NF XIX : Mk XIII designed with AI.VIII or X or SCR.720 in bulged regular nose and low-blown Merlin 25 engines.
NF 30 : Night fighter with two-stage power-plants, paddle blades, AI Mk X and numerous sensing, spoofing or jamming avionics. Based on Mk XIX.
Mk 33 : First Royal Navy Sea Mosquito model, with power-folding wings, oleo primary legs (instead of rubber in compression), low-blown engines operating 4-blade propellers, arrested hook, 4 x 20 mm cannon, torpedo (otherwise many different bomb/rocket loads). US ASH radar and rocket JATO boost.
TF 37 : Naval torpedo-fighter. Fundamentally Mk 33 with AI/ASV Mk XIII.
NF 38 : Last fighter, usually exported. AI Mk IX, forward cockpit.
Users: UK (RAF, RN), Australia, Belgium, Canada, China, Czechoslovakia, Free-French, Yugoslavia, New Zealand, Norway, Russia, Turkey, USA (USAAF). (Nationality list for all types, including Mosquito bomber types)
---
Animated 3D model De Havilland Mosquito FB VI of Chinese Air Force
---
Specifications de Havilland Mosquito FB VI
Specifications:

| DH FB VI | Specification |
| --- | --- |
| Type | fighter-bomber, anti-shipping strike aircraft |
| Power plant | two Rolls-Royce Merlin XXI 12-cylinder liquid-cooled inline piston engines, each with 1,230 hp |
| Accommodation | 2 |
| Wing span | 54 ft 2 in (16.51 m) |
| Length overall | 40 ft 6 in (12.34 m) |
| Height overall | 15 ft 3 in (4.63 m) |
| Wing area | 435 sq ft (40.4 m²) |
| Weight empty | 14,300 lb (6,486 kg) |
| Weight loaded maximum | 22,300 lb (10,115 kg) |
| Maximum speed | 380 mph at 13,000 ft (612 km/hr at 3,962 m) |
| Initial climb | 1,740 ft/min (530 m/min) for F II |
| Climb time to 15,000 ft (4,572 m) 7 minutes | |
| Service ceiling | 36,000 ft (10,972 m) |
| Range | 1,300 miles (2,092 km) |
Armament:

| DH FB VI | Specification |
| --- | --- |
| under floor | 4 x 20 mm Hispano cannon (300 rounds each) |
| in nose | 4 x 0.303in Browning (2,000 rounds each) |
| rear bay | 2 x 250 lb (113 kg) bombs |
| under wings | 2 x 250 lb (113 kg) bombs (later 500 lb/ 226 kg) or drop tanks, mines, depth charges, 8 x 60 lb (27 kg) rockets |
Service statistics:

| DH FB VI | figures |
| --- | --- |
| First flight (prototype) | 25 November 1940 |
| Service delivery | before November 1943 (F II August 1942, FB XVIII January 1944) |
| Final delivery (T.III) | 1949 |
| Total production figure | Total: 2,548 FB VI (466 F II, 27 FB XVIII Tse-Tse Fly) |
| Operations in WW2 (all) | 39,795 (28,639 as Mosquito bomber) |
| Losses (all) | 396 (100.5 operations per loss) |
| Bomb tonnage on targets (all) | 26,867 (0.94 tons per bomber operation) |
---
References and literature
The Encyclopedia of Weapons of World War II (Chris Bishop)
Combat Aircraft of World War II (Bill Gunston)
Technik und Einsatz der Kampfflugzeuge vom 1. Weltkrieg bis heute (Ian Parsons)
Das große Buch der Luftkämpfe (Ian Parsons)
Luftkrieg (Piekalkiewicz)
---